Workers from the Houston Parks and Recreation Department quickly cut the city's official Christmas tree Tuesday and fed it into a grinder to be turned into mulch. Carolyn Wright is with the city's Solid Waste Department. She said last year's recycling program ran for two weeks.
"And as a result, good organic material was recycled, reused, and will be put to good use, enriching the soil instead of taking up valuable landfill space," Wright said."Christmas trees are accepted again at 18 drop-off sites throughout the Houston area."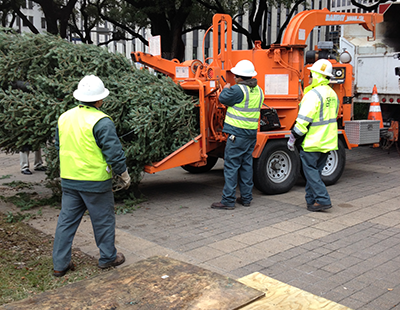 Workers recycle Houston's official Christmas tree.
Richard Stamper, with Living Earth, says mulch from ground up trees is a staple for many.
"Along with the Christmas trees, we recycle grass clippings, leaves, branches, food scraps, and stable bedding," Stamper said. "And with all this material we make our mulch, compost and soil mixes."
Christmas trees can be dropped off for free now through January 7th. Houston residents can also place them curbside for recycling. They must be free of ornaments, tinsel, lights, tree stands and water bowls before they are put out on the curb. Flocked trees cannot be recycled.
The complete list of Christmas tree recycling centers is below:
OPEN Wed. – Sun., 9:00am to 6:00pm
Mon. – Sat. 8:00am to 5:00pm, CLOSED SUNDAY
OPEN DAILY, 9:00am to 6:00pm
Doss Park (gates close at 5) – 2500 Frick Road
Memorial Park (Ball Fields 4 and 5) – 7300 Memorial Drive
T.C. Jester Park – 4200 T.C. Jester West
Kingwood – Bens View Lane @ Bens Branch Drive
Elington Airport Recycling Drop-off –HWY 3@ Brantley Road
MON-FRI 7:30am to 5:00pm and Saturday 7:00am – 12pm
Living Earth – 5625 Crawford Road
Living Earth – 1503 Industrial Drive (Gessner @ Hwy 90)
Living Earth – 1700 Highway 90A East
Living Earth – 12202 Cutten Road
Living Earth – 16138 Highway 6
Living Earth – 5210 S. Sam Houston Pkwy.