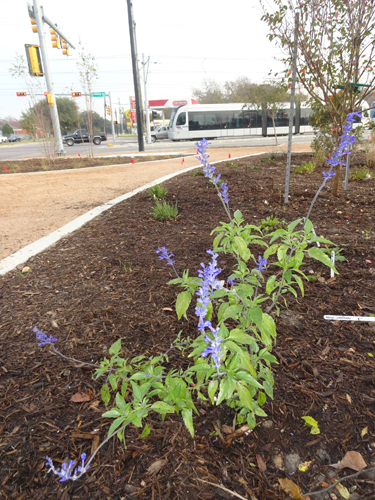 The corner of Harrisburg and Lockwood is the location of the Lockwood Nature Center. Image courtesy of Greater East End Management District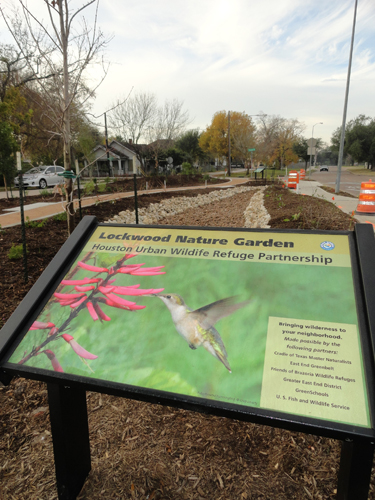 Lockwood Nature Center Map. Image courtesy of Greater East End Management District
The corner of Harrisburg and Lockwood has been a busy one with a major light rail project taking over the area. But now that the construction dust has settled, that corner is also home to a special garden.
The Lockwood Nature Garden Preserve used to be a used car lot. Now it's an oasis of native plants, shrubs and grasses intended to attract pollinating insects and birds.
Diane Schenke is president of the Greater East End Management District. She says the U.S Fish and Wildlife Service wanted to have more of a presence in urban parts of Houston. So they provided a $25,000 grant to the East End to create the garden.
"So we've gone from having what would have been largely grass, to a very colorful set of plants that are designed to attract both butterflies and hummingbirds," Schenke says.
The garden also has educational signs to teach visitors about the importance of attracting pollinators to urban areas. Schenke says it's as simple as planting milkweed, a favorite food for monarch butterflies.
"I've had one gentleman call me and say he's planted his entire back yard in milkweed, because he's so concerned about the monarch butterfly not being able to thrive," Schenke says.
The garden is outfitted with lighting, benches and bike paths. A large flower-shaped sculpture made of old VW Beetle parts will also find a permanent home there in the coming year. The Lockwood Garden is open to visitors, but won't really start showing off its best assets until next summer.