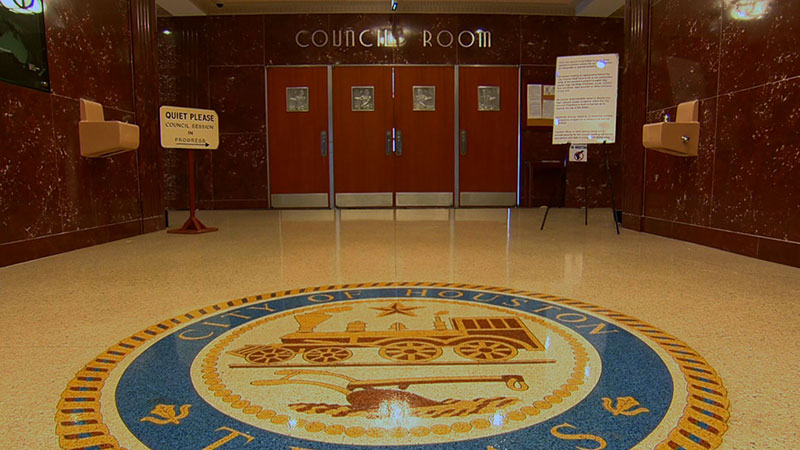 City of Houston seal on the floor leading into the city council room. Photo by Matt Brawley.
The city is projected to operate under a $63 million deficit in the next fiscal year.
The good news is that the previous projection was much higher, at $144 million.
Still, the question remains how to bring down the looming budget shortfall.
Council member Ellen Cohen said some services will have to be cut and new fees considered.
"We have to decide either techniques that we can use," she said. "We're talking about a garbage fee. We're the only city of any size in this country that doesn't have a garbage fee. That's something to look at."
Cohen said another option would be a public safety fee for police and firefighters.
Council member Jack Christie has a different approach.
The elected officials debated for an upcoming episode of TV 8's Red, White and Blue.
"If you control spending at raising property values, really the only thing that you really have to do long-term is probably solve our pension challenge," Christie said.
Cohen said while the city's pension obligations are on everybody's mind — in particular for police and firefighters — there needs to be a plan for the possibility that the pension issue isn't resolved.
One way the City Council is tackling the deficit is by working on identifying the city's non-essential services.
It needs to come up with a solution for the next fiscal year by this summer.