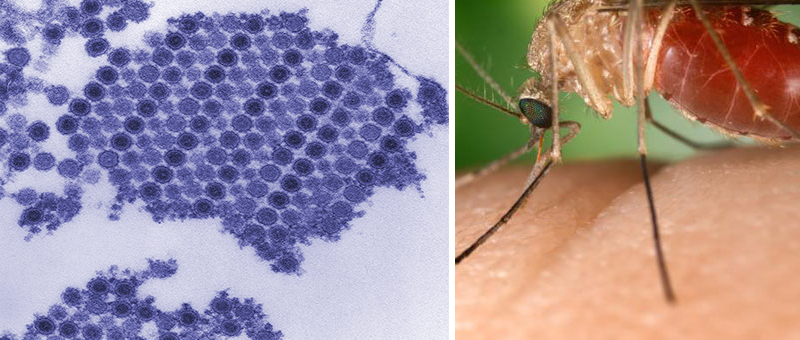 CDC images
Winter travelers heading to the Caribbean and other destinations to the south are being warned about chikungunya, a virus carried by mosquitos that is new to this part of the world.
It's been one year since chikungunya first appeared in the Western Hemisphere.
The mosquito-borne virus is rarely fatal, but can cause fever and terrible joint pain that can sometimes linger for months or years.
Dr. Scott Weaver at UTMB in Galveston said chikungunya is now established in the Americas and continues to spread.
"Almost everywhere, every country in central America is now affected," Weaver explained. "Southern Mexico now has chikungunya. The Caribbean islands, most of them still have chikungunya, although the peak of the outbreak has probably passed on most of the islands."
Weaver added that at this time of year the biggest risk is probably to those headed to Central America and to the northern regions of South America — countries such as Columbia, Venezuela, and Brazil.
Weaver noted that the virus is transmitted by a different species of mosquito than the culex mosquito that carries West Nile virus, and with which Houstonians may be more familiar. Because the mosquitos behave differently, Houstonians with travel plans may need to learn new precautions.
"Aedes aegypti, which is doing most of the chikunguyna transmission right now, is a very different mosquito," Weaver said. "It feeds during the daytime principally, and it likes to enter homes. So you can't assume you're protected by going inside and closing the doors."
Weaver said if you're staying anywhere in the affected areas, especially if there are no screens or air conditioning, you should protect yourself with insect repellent and clothing.
If you do get bitten, symptoms may appear within one to three days.
"If you start feeling severe pain in your muscles and your joints, severe headache, if you develop a high fever, you should seek medical attention," Weaver said.
A doctor may need to diagnose specifically whether you have chikungunya or possibly dengue, a different mosquito-borne illness that has similar initial symptoms but different risks.
There is no cure for chikungunya, but researchers — including Weaver — are testing a few vaccine candidates.