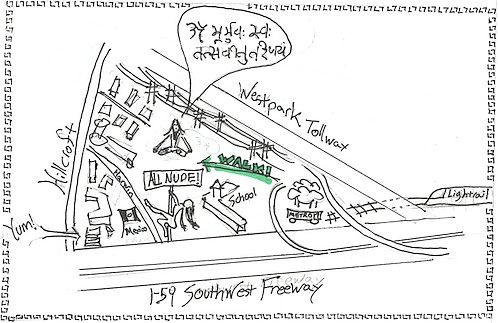 Sketch of Hillcroft and 59 by Raj Mankad, posted on HearOurHouston.com
Raj Mankad has been visiting Hillcroft for over a decade. The Southwest Houston neighborhood is a hub for South Asian businesses and restaurants, but Mankad saw a new side when he took his first walk around Hillcroft in the middle of a blazing Houston summer day.
Why would he do such a thing? Mankad was one of the first participants in Hear Our Houston, a project designed to capture an oral history of the city's neighborhoods.
"I thought that I understood this neighborhood," Mankad says. "But once I started actually walking around and putting my feet to the pavement, I started noticing things that I hadn't before."
Like many residents, Mankad agrees that Houston is not always pedestrian friendly, but he says it was important to capture the history of a place that is special to him. Mankad volunteered to record the audio tour for his friend Carrie Schneider, the founder of Hear Our Houston.
Schneider started walking from her Museum District apartment to the Medical Center when her mother was hospitalized a few years ago. On her way, she'd listen to her favorite audio books.
"At just some point I remember looking down at the pavement and wondering, what it would be like if what I was listening to had something to do with where I was walking?" she says.
That's how Hear Our Houston was born. Some tours have come from people she's reached out to, like Mankad. Others have approached her wanting to share stories of the neighborhoods they know and love. Today, Schneider has gathered more than 80 walking tours from all over Houston.
"No matter where you are in Houston, you're kind of spelunking, like it's not a city that's made for walking," she says. "So if something is in your way or making it not easy to walk, to me that is kind of the whole point. It kind of makes it more exciting, you know?"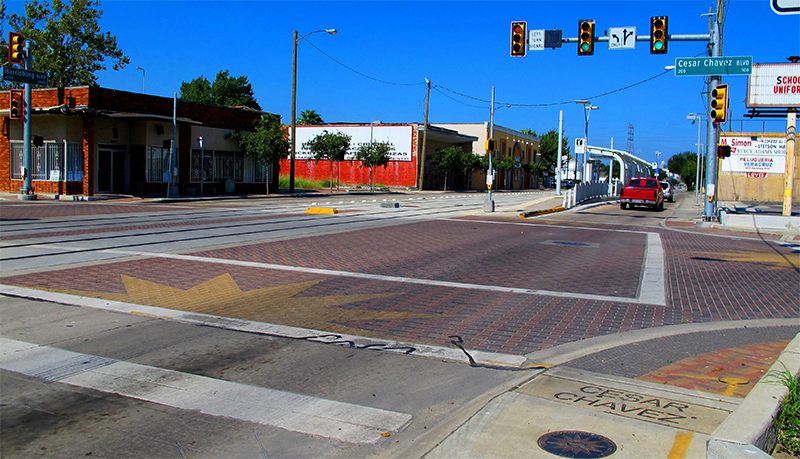 Cesar Chavez Blvd and Harrisburg Blvd 2014. Photo credit: OurNewAnahuac.net, posted on HearOurHouston.com
Schneider edits the audio and manages the website. The tours are available for download at no cost. Schneider says she does it because she wants to record this period in Houston's history, giving people a richer understanding of the neighborhoods they drive through every day. Over the years, she says the attitude toward her project has changed.
"Really, the only response I got when I started the project was like 'what?' and 'how?'" she says. "Now it's like, 'oh yeah, we already acknowledge that that would be a positive thing.'"
It was a positive thing for Nick Vaughan and Jake Margolin. The couple recently moved to Houston from New York. They downloaded an audio tour of Cesar Chavez Boulevard where their art studio is located. Vaughan says he noticed his surroundings more than he ever did from his car.
"Spending roughly 20 minutes walking roughly seven blocks, your understanding of the place deepens," he says. "Your appreciation for the place deepens."
Margolin agrees. He says he plans on going on as many tours as possible.
"Getting to walk along with someone who's a true authority on a neighborhood is a really rare gift," he says. "It's not only totally pleasurable but it's completely educational, and it's just such a break from this car culture."