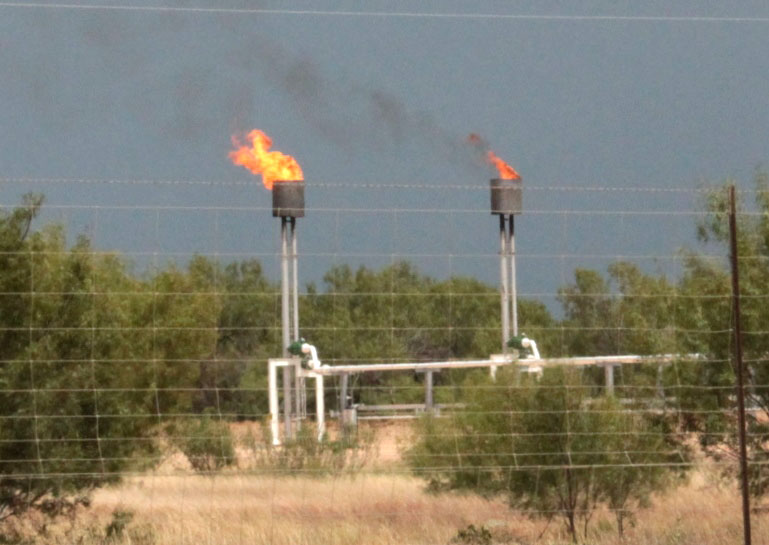 Natural gas flared at production site in La Salle County
Just south of San Antonio, rancher Hugh Fitzsimons has been somewhat dismayed at how much natural gas is being flared from wells on his land that he leases to oil and gas companies.
"Landowners ought to be appalled at what's being wasted and vented up into the atmosphere that they're losing money on," Fitzsimons told News 88.7. The Democrat ran unsuccessfully for state agriculture commissioner and has become an outspoken critic of how Texas is regulating oil and gas production.
The natural gas comes up with the oil and while it can be captured and put in pipelines, sometimes companies find it's just cheaper to burn it. Which means the companies don't have to pay royalties to landowners or taxes to the state since the gas is never sold.
The San Antonio Express-News crunched state data on oil production in South Texas and found that flares have burned off more natural gas in just the first seven months of this year than was burned in all of 2012. It'd be enough to generate electricity for tens of thousands of homes.
So much gas is now being flared — or sometimes just escapes unburned — that if added up, pollution from thousands of well sites is rivaling emissions from big refineries in Houston. The Texas Commission on Environmental Quality has increased air monitoring in South Texas but has insisted the pollution is spread over a huge area and isn't a health concern. Which makes rancher Fitzsimons chuckle.
"Unless you're there, it's not a problem. If you're there like I am, it's a problem."