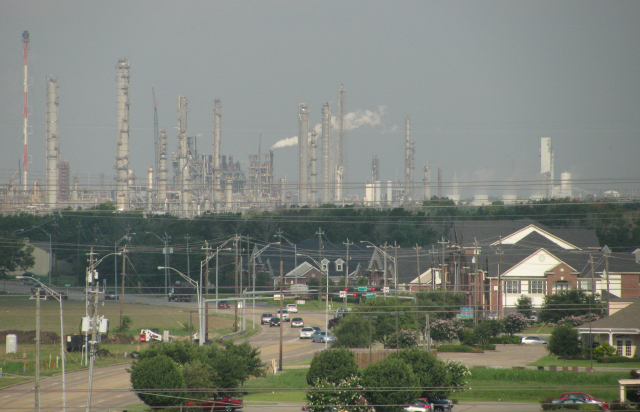 ExxonMobil's Baytown refinery is the nation's largest and is one of 26 along the Texas and Louisiana Gulf Coast producing tons of petroleum coke. Photo by Dave Fehling.
A suit against ExxonMobil became their latest loss. Last week, a federal judge in Houston issued his decision after hearing three weeks of testimony about pollution from the Baytown Exxon-Mobil refinery, the biggest in the U.S.
"Just reading the decision really made me angry," said Luke Metzger, director of Environment Texas, one of several citizens groups that brought the suit.
They felt ExxonMobil's pollution could justify a penalty of over a half-billion dollars. Judge David Hittner disagreed, saying Exxon-Mobil had done its best to comply with pollution laws, hadn't hurt anyone or the environment, and therefore didn't owe a dime.
"The judge decided to let them off scot-free," said Metzger.
The defeat for the environmental groups comes on the heels of a decision in favor of another company, International Paper. Last month, jurors in Houston found the company not guilty in a case brought by Harris County officials involving waste dumped decades ago in pits along the San Jacinto River.
Earlier this year in Waco, a federal judge ruled against the Sierra Club that had sued Dallas-based Luminant over pollution from one of the company's power plant in East Texas. That lawsuit and the one against ExxonMobil are called citizen suits and were specifically allowed under the Clean Air and Clean Water acts passed by Congress in the 1970s. The point was to give citizens a way to fight polluters if government regulators weren't aggressively enforcing the law.
"There have been thousands of citizens' suits over the past few decades," said Jay Shimshack, an environmental policy expert at the University of Virginia. He and colleagues have studied the effect of those lawsuits.
"I have found that citizens' suits do deter violations over time. And that citizen suits, as intended, can indeed draw attention to areas of lax public monitoring," Shimshack told News 88.7.
The citizen suits can be a deterrence because some have resulted in big settlements as they did some years ago in cases involving Shell and Chevron. Metzger, the environmental activist, said despite the recent defeats, they'll likely bring more legal actions in the future.
"We have a strong track record. We believe the law and the facts are on our side."
U.S. District Court Ruling Environment Texas v. ExxonMobil