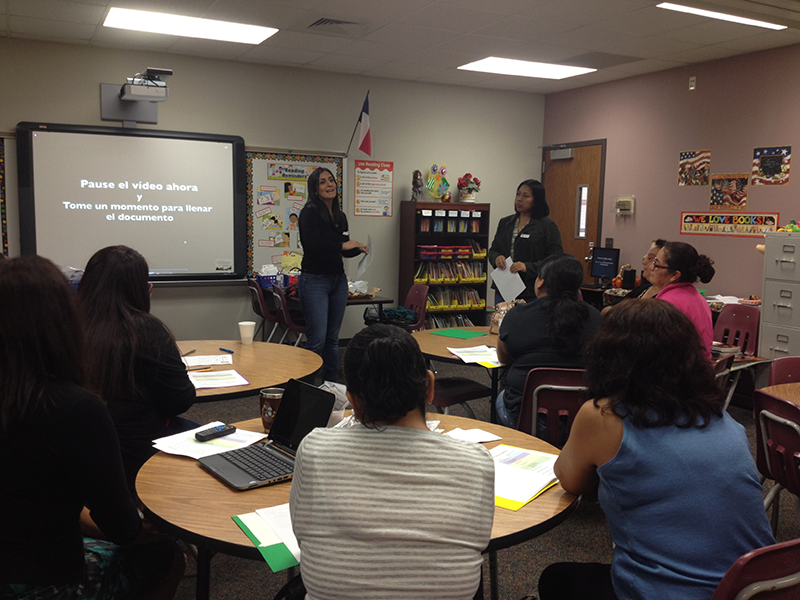 Moms gather at a classroom in Morales Elementary for a morning charla, or chat. They watch a training video about how to support their kids' education and share their own experiences.
One by one, moms come into a classroom at Morales Elementary.
"!Hola! ¡Buenos días! Pásale"
There's a pile of sugary Mexican pastries and a fresh pot of coffee brewing.
These moms are here because they have big goals for their young children.
Sara Prieto has two daughters. One's in fifth grade and the other is in third.
"I want my daughters to go to college, not just stop at high school and work in McDonald's or Burger King, no! I want them to go to college and have a career. So I told myself I'm going because this is very important," she said.
Prieto is part of a new experiment in the Pasadena Independent School District that's trying to help students by coaching their parents.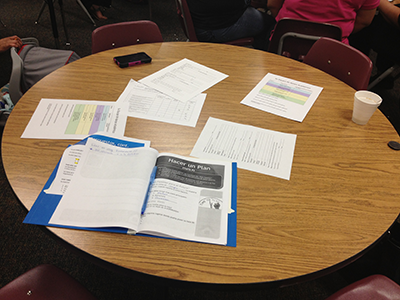 Parents who participate in the charla learn specific tools, like how to create a family education plan and identify people in their community who can support that plan.
It's a new, grassroots twist in how to engage parents in their children's education.
Federal education policies have pushed parental involvement for more than 10 years.
The idea is that if parents are more involved on campus, their children will do better in school — especially kids who struggle.
Prieto didn't take the path to college herself. She dropped out in 10th grade when she left Pasadena and returned to her native El Salvador. Then she found out she was pregnant, so it was hard to go back to school.
She's here to learn how she can help her daughters have a better education.
But this isn't a class. It's a charla. That's the Spanish word for chat.
"Like you hang out with your friends here in America — you know, you invite them with a on a Thursday or Friday night and you just hang out in the garage and you barbecue," said Hortensia Melchor, the parent coordinator and counselor on campus.
She's also one of the leaders of charlas.
"We don't have the BBQ but we have the coffee. And it's just a feeling that you're surrounded with people that you trust, people who are going to give advice when you need it."
That advice includes how to make reading a daily habit, how to ask for help on campus and how to plan early for college.
The charla program is a joint effort between the Pasadena school district and two locals groups. Houston A+ Challenge has provided $100,000 in funding while FACE Specialists have created the six-week charla program in several schools, community centers and churches.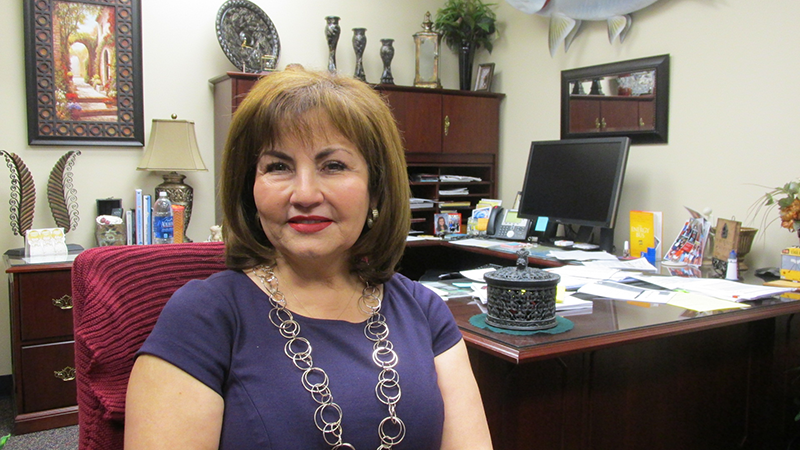 Gloria Gallegos, assistant superintendent for special programs, said in parent surveys, 100 percent of responding parents say they want their children to study beyond high school. She says the parent charlas are part of a larger effort to put more students on the path to college.
Assistant Superintendent Gloria Gallegos said families need more support. This particular experiment is part of their larger effort called "Path to College."
In Pasadena, a working-class city built along a massive complex of refineries and petro-chemical plants, less than 15 percent of adults have college degrees.
In the school district, more than 80 percent of the students are Hispanic and are from low-income homes.
"When you have 85 percent of district population that is economically disadvantaged, they bring with them have greater needs," Gallegos said.
"And that's exactly what we're trying to do — we're trying to break cycle of poverty by working on both the parents and the kids."
But getting parents involved in school doesn't always pay off as expected.
That's according to one researcher at the University of Texas at Austin.
Sociology professor Keith Robinson looked at more than 60 different ways parents get involved and what that meant for their kids by studying three decades worth of data.
"The general notion that kids do better in school when their parents are involved does not stack up," Robinson said.
"We found that most forms of parental involvement yield no benefit to children's test scores or grades regardless of their racial or ethnic background or socioeconomic status."
Robinson found traditional activities like attending PTA meetings didn't help.
But he said a few things can make a difference.
"The list of what consistently works is pretty short. That would be expecting your child to go to college, regularly discussing activities that your child engages in at school and requesting a particular teacher for your child," he said.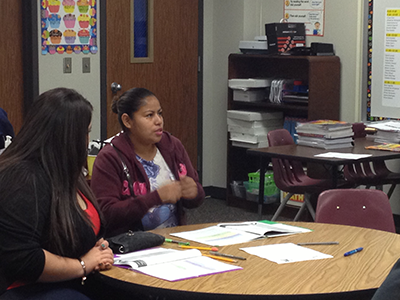 Sara Prieto, 26, has two daughters. She wants them to go to a university and "be someone important when they grow up."
Robinson said schools should move away from those traditional parent activities promoted by federal education policies.
Instead, he urged schools to help parents find creative ways to communicate the value of education to their kids.
At Morales Elementary, moms are watching a video. It's about how to make a family education plan. After the video, they start chatting.
Sara Prieto said that conversation really helps.
"You get ideas, not necessarily from the video but from the other moms – examples of how they did it with their older kids, and how we, who have younger ones, can motivate them so they advance in school."
Prieto, 26, is also showing her daughters how much education means to her.
She just finished a GED course to earn her high school diploma.
To learn how this education experiment borrows an idea from public health, listen to a conversation with one of its creators here.