The Houston-Galveston Area Council is in the process of creating a new plan that sets out the region's transportation priorities for the next 25 years. Much of the focus will be on relieving traffic in Houston, where most of the population lives and works.
But what about the neighboring cities and counties that continue to grow at a rapid pace?
One of the places experiencing massive growth is Montgomery County. Local resident Chip Abrant said he sees it every day during his commute on I-45.
"Traffic is getting heavier and heavier out here as time goes by," Abrant said. "There's more growth out here than in other parts of Houston."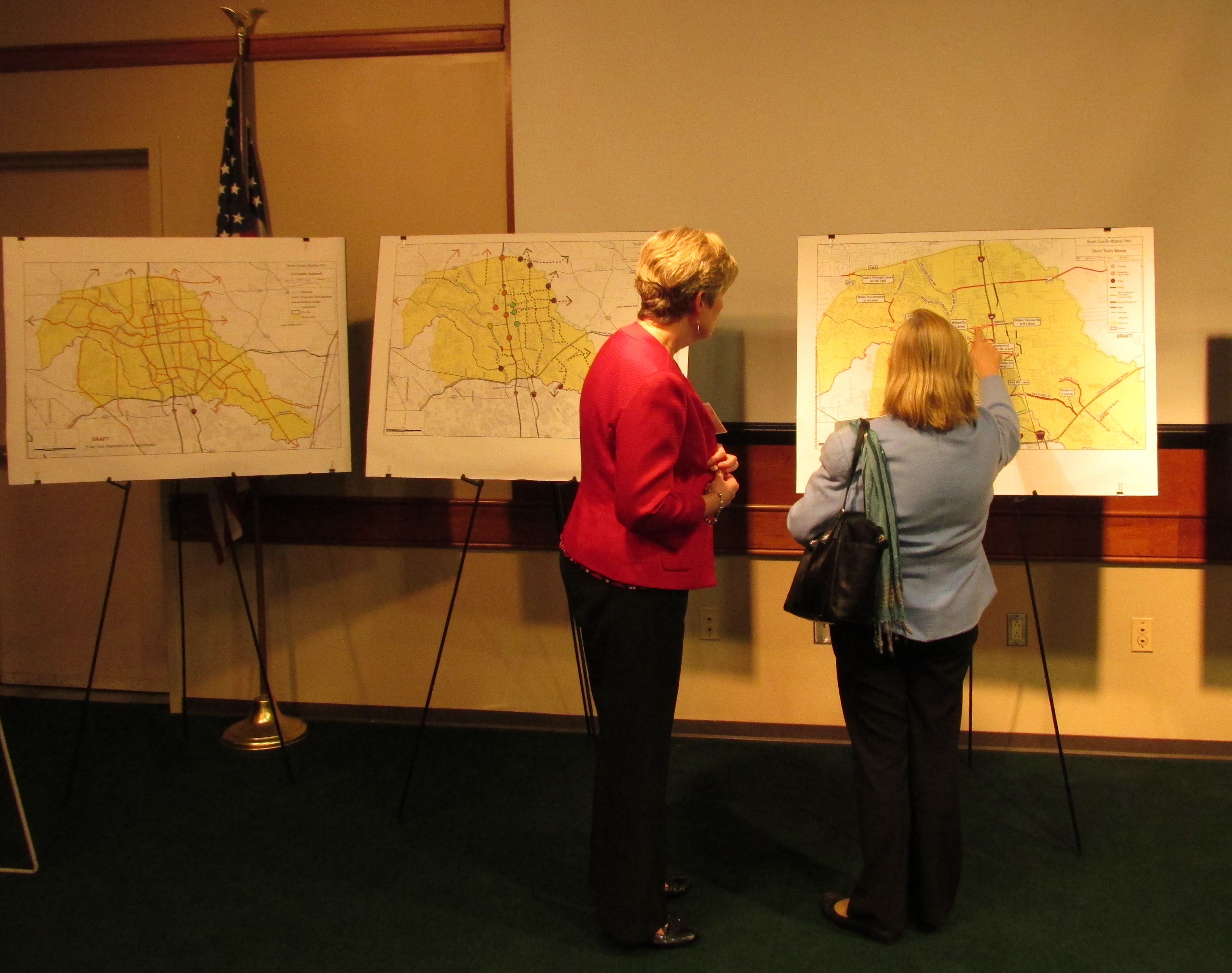 Maps are among the items residents can review at a series of meetings by the Houston-Galveston Area Council on its 2040 Regional Transportation Plan.
He makes a daily commute from his home just northwest of Conroe to his job near Greenpoint Mall, about 35 miles away. He says it's taking him longer and longer to get there.
"My daily commute is probably up to about an hour and five minutes each way," Abrant said. "And it grows and grows and grows."
Figures from the U.S. Census Bureau show between 2010 and 2013, Montgomery County saw its population jump by close to 10 percent. But that's not the whole story when it comes to the county's transportation issues.
Mike Bass is a member of The Woodlands Township Board of Directors and he's also on the transportation committee. He said they're now seeing lots of reverse commuting, with thousands of people traveling to the suburbs to work.
"In 2012, at the end of 2012, we had more people coming into The Woodlands to work than going out of The Woodlands," Bass said.
And considering that growth isn't expected to slow anytime soon, what do you do about it?
The Houston-Galveston Area Council hopes its 2040 Regional Transportation Plan will serve as a blueprint for the future.
The long-range vision lays out priorities for the eight-county Houston region over the next 25 years. It identifies about $77 billion in needed improvements. The organization has also done separate studies on Montgomery County.
Carlene Mullins is a H-GAC transportation planner. The organization has identified particular trouble spots, like Lake Woodlands Drive.
Plans are already underway to widen Gosling Road, which will connect to a new segment of the Grand Parkway. But in many places options are limited.
"You can improve the signal timing, you can expand the turn lanes. That will actually help some of the demand that's on the road right now and some that will occur later," Mullins said. "But you do get to a point where that will no longer help and you need to make broader expansions."
And when it comes to busy I-45, there's not a lot of room to expand, so planners have to come up with other solutions, like clearing accidents faster. There are also suggestions for new park-and-ride buses to take workers in and out of Montgomery County.
But considering the long-range plan is still in the draft stage, a lot of solutions won't occur right away. And commuter Chip Abrant believes he has no choice but to keep fighting the traffic.
"We're going to continue seeing a lot of people moving up to this part of Houston," Abrant said. "Unfortunately I don't think that the highway system is going to keep up with the growth."
H-GAC is currently seeeking public comment on the plan. It has also scheduled a series of public meetings throughout December where residents can talk directly with transportation planners.
HGAC 2040 Regional Transportation Plan