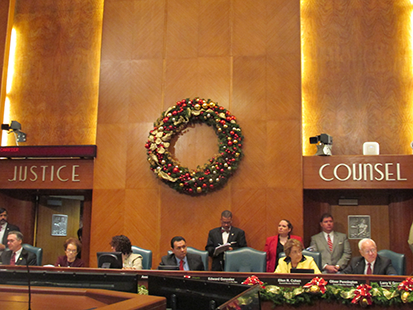 Houston City Council got an update on the city's financial status Wednesday, December 10, 2014.
Less than five months ago, Kelly Dowe, the city of Houston's finance director, had a gloomy outlook for fiscal year 2016: a $144 million shortfall.
This week, when Dowe again briefed the city's Budget and Fiscal Affairs Committee, that picture looked a lot better. Mainly thanks to a change in police pension funding, the projected deficit now stands at about $63 million.
Council member Stephen Costello, who chairs the budget committee, said he did not see this coming.
"Apparently the people that manage the pension system, the pension board, decided to make some changes to their system," he said. "The calculation of the funding level changed, so as a result we don't have to make that payment. So, that's a good thing."
But Costello also warned that the new projection still presents a significant budget gap going forward, and the city needs to continue to look for ways to narrow that gap.
"Takes a little bit of pressure off," he said. "But I wouldn't say it takes a lot of pressure off."