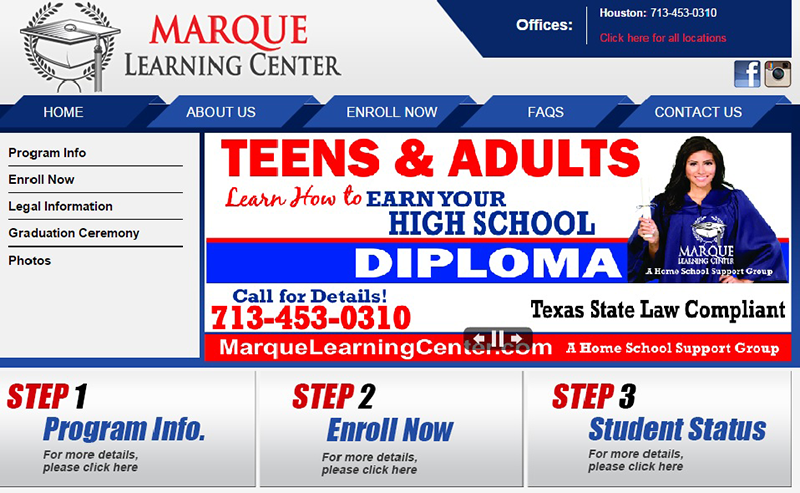 Screenshot from Marque Learning Center.com
Marque Learning Center says it's helped more than 100,000 adults earn their high school diplomas, like these students at a graduation last year.
"You're no longer losers, you're winners!"
But the Attorney General's Office says these students lost out on a real education.
It's charged Marque Learning Center and its owners with fraud.
The school claimed it was an accredited home school operation and told students they were guaranteed a seat at a Texas public college.
But prosecutors say its accrediting agency was a sham, it doesn't qualify as a home school, and its degrees aren't recognized by universities, trade schools or the military.
What's more, investigators found Marque Learning Center had no teachers or tutors and the answers to its high school exam were provided or even nonsensical.
They say the center targeted immigrant students who needed education credentials and also students cited for truancy. Students paid between $99 and $1,000 or more to take the test and get their diploma.
"Because the Marque diploma is not based upon any actual coursework or instruction, it is educationally worthless," the lawsuit says.
"To me, all of this sort of rings as untrue," says Bob Sanborn, president of the advocacy group Children at Risk.
Sanborn says the problem goes beyond this particular case.
"With all these diplomas mills, they're exactly that. They're really sort of just churching out these diplomas. They're giving students little to no work and they're making it seem like they're legit," Sanborn says.
Marque Learning Center declined to comment. But a representative says they are now a "home school support group."
Last year, a report by Houston Public Media examined how students could earn a high school diploma at Marque Learning Center in two weeks or less.