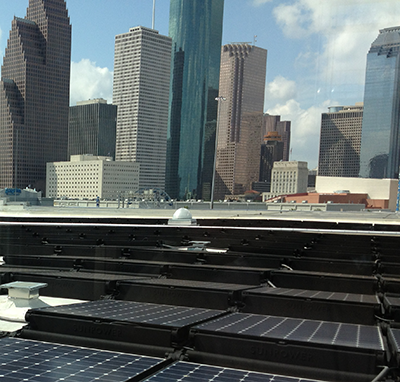 Solar panels on roof of Green Building Resource Center with the Houston skyline in the background. Photo taken by Pat Hernandez.
The Environment Texas Research and Policy Center looked at the growth of the energy generated from solar panels.
In Texas that growth was 84 percent in the last few years — from 34.5 megawatts in 2010 to 215.9 megawatts in 2013.
Anne Clark with Environment Texas said despite the growth, energy from solar power still amounts to less than 1 percent. She said the report sets a target for Texas to raise that number to 20 percent by 2025 — which should happen even if the current growth slows down some.
"It could cut as much carbon pollution as 10 million cars emit each year and put Texas more than halfway to the benchmarks set by the U.S. Environmental Protection Agency Clean Power Plan, which requires cuts in carbon pollutions of 39 percent for Texas," Clark said.
Lanny Sinkin with the advocacy group Solar San Antonio said all it takes to reach the 20 percent goal is the will to do it.
"Solar is very easy to deploy very quickly. The price of it is constantly coming down," he said. "So Texas is in an ideal position to be an international leader in solar."
San Antonio ranks sixth in the nation in installed solar capacity. Houston ranks 32nd.