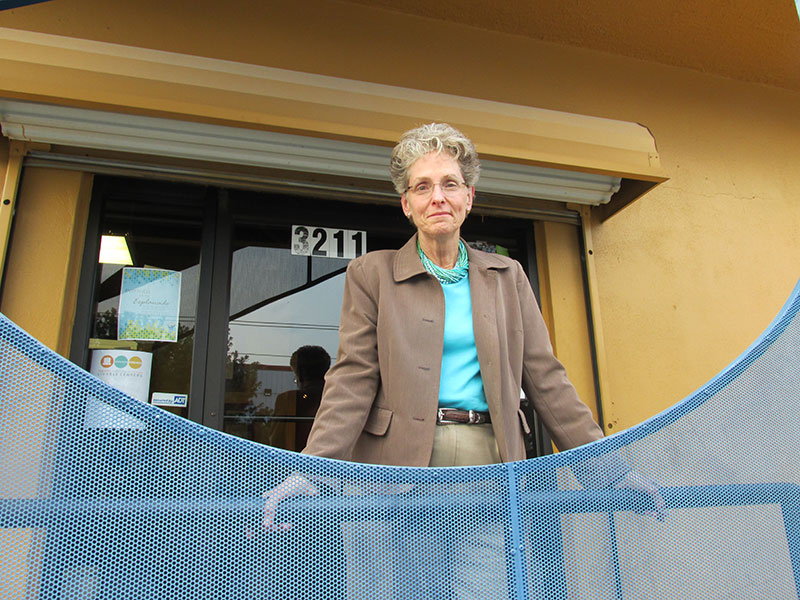 Diane Schenke, president of the Greater East End Management District
About 50 residents gathered for a public meeting in the East End last month. It was the beginning of Phase Three of the Livable Centers initiative.
After a short presentation, they checked out tables with specific topics, like transportation or retail.
Here, they could share their visions for the Second and Fifth Wards.
It's how the Greater East End Management District has gone about redevelopment in the area for years, said its president Diane Schenke. That includes Guadalupe Plaza Park, which is currently under construction.
"We had photos of other parks in other cities and some here in our own city," Schenke said. "And we gave people red and green dots and said, go around and put the dots up about what you would like to see in the park in your neighborhood."
Since 2009, the Greater East Management District has held more than 40 public and stakeholder meetings on the Livable Centers initiative.
Schenke likes to point that out to counter criticism that the district is doing a bad job communicating. Some critics feel like the changes in the area are taking away its Hispanic culture.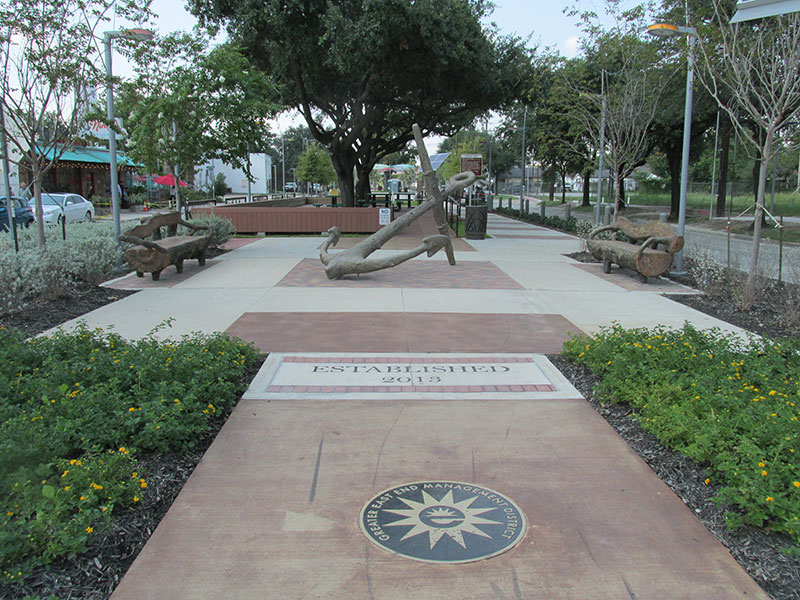 Some East End residents and business owners say the Esplanade on Navigation Boulevard should have more Latino flavor.
Schenke dismisses those concerns as the view of a handful of troublemakers.
"Have you been on the Navigation Esplanade? I mean, that's a bunch of hooey," she said. "There's benches with Spanish sayings on them throughout. The papel pecado design on the shade structures within — those are all Hispanic."
Schenke said the management district consciously tries to incorporate Hispanic themes into its projects. She acknowledged that communication can always be improved but said there's no shortage of effort.
"We've had updates on the website, we go to the Second Ward Super Neighborhood meetings," she said. "I don't know what else we can do."
On the suggestion of critics, the management district also started to hand out flyers on upcoming projects and meetings. And they recently went around collecting signatures of support from business owners.
One of those who signed is Rafael Acosta, owner of Merida Restaurant on Navigation Boulevard. He likes the new Esplanade there.
"Look at it how it was two or three years ago and look at it now," he said. "Is it better than it was? Hell, yeah. It is. Does it bring families out to walk and give them a chance to stroll in the evening? It does. So you tell me: Is it better or not? Does it have to have a certain color to be Mexican? No."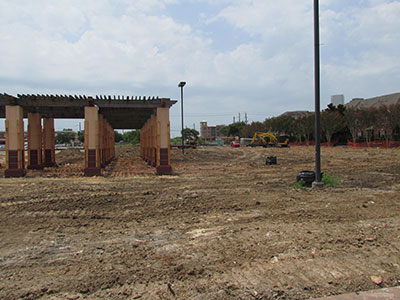 Guadalupe Plaza Park is being renovated and should open by May 2015. Some residents say they were surprised by the park's demolition in July.
Another subject of controversy is the renovation of Guadalupe Plaza Park. That project is a partnership between the management district and the city of Houston.
Council Member Ed Gonzalez said he has met with several residents, and he understands their concerns about losing part of the culture, but also the need for revitalization.
"Instead of focusing on the past, we're working closely with the community now in going forward and trying to put some historic and some additional Latino elements in there," Gonzalez said. "And hopefully some type of memorials or plaques to recognize some of the rich Latino history in the area."
Some still don't like what's happening with the park. That leaves Phase Three of the Livable Centers study as the next opportunity for agreement.
But if the first public meeting is any indication for Latinos' input, that may not happen anytime soon.
Although Hispanics make up almost 90 percent of the Second Ward, the vast majority of those attending were Anglos.