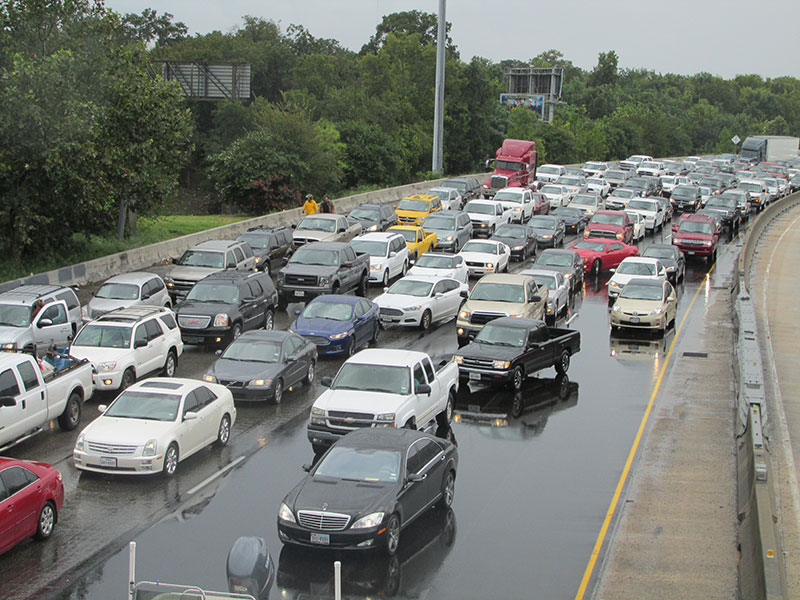 Traffic backs up behind an accident on I-45 north of downtown Houston
If you ride the bus to work and your employer takes part in a federal program, you may not have to pay taxes on up to $130 dollars of your monthly income. But for some who drive to work and pay to park, that figure can go up to as much as $250 a month.
And that federal tax break for parking puts about 820,000 more cars on the country's most congested urban freeways.
That's according to a new study from public policy organizations TransitCenter and Frontier Group.
Sara Smith with Austin-based TexPIRG says the federal government is losing out on millions that could go toward the Highway Trust Fund.
"Money that we aren't collecting as a society from tax breaks might as well be money that we're spending."
Metro CEO Tom Lambert says even though drivers can save more on taxes by driving and parking, there are other financial benefits for using public transit.
"You get the benefit of saving on insurance costs. You get the benefit of saving on wear and tear on the vehicle."
The study says about a third of U.S. workers get parking benefits, while only two percent get tax breaks for using transit.
Below is a new study from public policy organizations TransitCenter and Frontier Group: