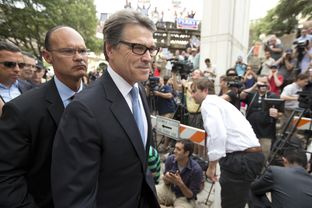 Gov. Rick Perry leaves the Blackwell-Thurman Justice Center in Austin after his booking on Aug. 19, 2014. Photo by: Bob Daemmrich, Texas Tribune
"This court concludes that [Special Prosecutor Michael] McCrum's authority was not voided by the procedural irregularities in how and when the oath of office were administered and filed," Visiting Judge Bert Richardson wrote in a 16-page ruling filed in Austin.
On Nov. 6, Perry watched his attorneys argue in court that McCrum was improperly sworn in as special prosecutor more than a year ago. Perry attorney Tony Buzbee said the Texas Constitution required McCrum to sign an anti-bribery statement before taking his oath. McCrum testified that he did the reverse, taking the oath first.
Grand jurors indicted Perry over his threat in 2013 to veto funding for a state watchdog unit housed at the Travis County district attorney's office. Perry made the threat after DA Rosemary Lehmberg refused to step down from office following her drunken driving arrest and conviction. He eventually made good on the threat, withholding $7.5 million in state funds for the unit. He was charged on Aug. 15 on one count of abuse of official capacity and one count of coercion of a public official.
After that hearing, Perry told reporters he did not regret his actions.
"I stand behind my authority, and I would do it again," Perry said. "I stand behind that veto, and I would make that veto again."
In an unrelated matter, a judge late Monday cleared McCrum of a contempt charge in San Antonio. Bexar County prosecutors had accused the San Antonio defense lawyer of telling a witness to "get lost for a while" to avoid testifying during the punishment phase of a 2013 intoxication manslaughter trial.
Below is Judge Bert Richardson's order:
Disclosure: Tony Buzbee has been a major donor to The Texas Tribune. A complete list of Tribune donors and sponsors can be viewed here.
This article originally appeared in The Texas Tribune at http://www.texastribune.org/2014/11/18/perry-judge-rules-prosecutor-sworn-in/.