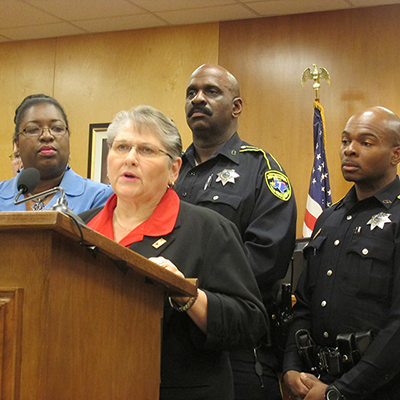 Presiding Judge Barbara Hartle speaks about the amnesty program on January 22, 2013. Photo by Ed Mayberry.
The 10-day city of Houston amnesty program is being offered to people with outstanding failure to appear warrants on certain delinquent citations.
"We've been carrying some back log for some time. When you deal with the number of scofflaws that we have, it's in the millions. We're trying to clear out those cases and get people to come and take care of their court matter," says Barbara Hartle, presiding Municipal Court judge.
"We're dealing with delinquent traffic and non-traffic citations, where the individuals failed to appear in court, and failure to appear warrants have been issued," says Hartle.
Cases filed before November 1st are eligible under the program.
Judge Hartle says this is geared toward the motorist who got a ticket or citation, and failed to come to court. "You could be involved in a collision where you're not even the one at fault. And if they run your driver's license and you have outstanding warrants you could go to jail, and you weren't even at fault in the citation," says Hartle.
She says this is the perfect opportunity to come clean with the court and at a substantial savings.
"Typically, a failure-to-appear charge carries fine and court costs of over $200. Some people have multiple falure-to-appear charges that are associated with one citation. If they come in and resolve the underlying charges on that citation, those failure-to-appear charges, with the consent of the prosecutor's office, will be dismissed," says Hartle.
Parking, Red Light Camera citations and administrative violations are not eligible for the amnesty program. It runs through November 24th.