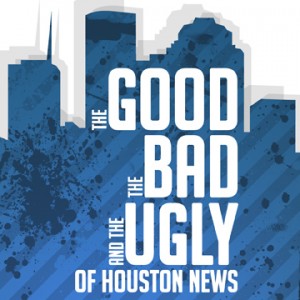 A lot can happen in a week — some of it good, some of it bad, some of it downright ugly.
Each Friday, we turn to our panel of "non-experts" to parse The Good the Bad and the Ugly of the week's news.
On today's panel: Houston Chronicle columnist Lisa Falkenberg, Houston-based comedian Elaine Phillips, and Loris Simon, Visual Media Consultant for Houston-based Literal: Latin American Voices magazine.
Our panel will discuss newly-released crime data in Houston, approval for Uber and other app-based paid ride services to operate at Houston airports, and a promotional event from Cullen's American Grille in Clear Lake, which is offering a $2,900-per-person meal featuring an opportunity (for an additional charge, of course) to taste an extremely rare Scotch, which retails for a suggested $38,000.