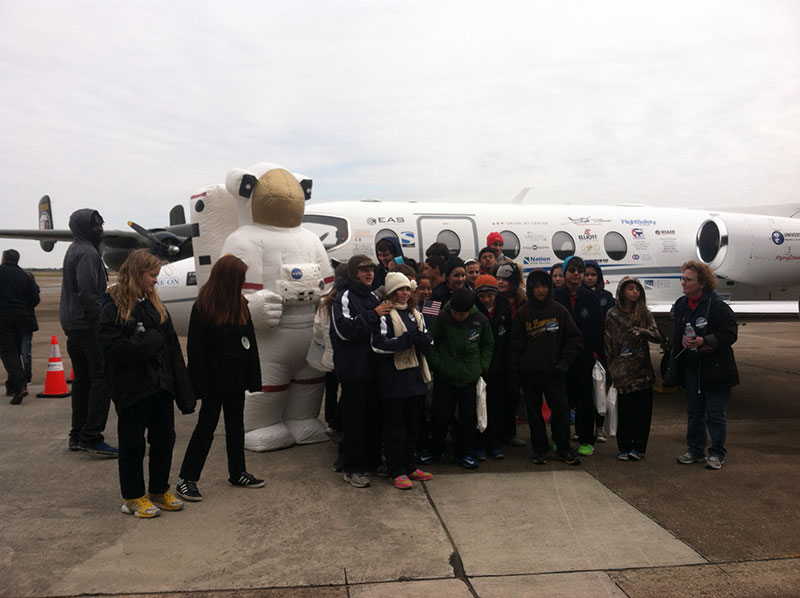 Students pose for pictures in front of the Flying Classroom.
Hundreds of students, teachers and parents cheered and waved American flags as they watched the Flying Classroom touch down at Ellington Field.
The business-style jet that seats nine people then taxied to the Texas Flying Legends Hangar. It was flown by Captain Barrington Irving. He calls it an "airplane-turned-Magic School bus."
Irving and his crew just returned from a two-month expedition across Asia, Indonesia and Australia. Along the way, they visited coral reefs, climbed a glacier and flew over an active volcano. The team captured many of their adventures on video. They designed interactive lessons around their findings focusing on science, technology, engineering and math, or STEM.
Irving once held the world record for being the youngest person ever to fly solo around the world. He says thousands of students followed his journey. With the Flying Classroom, he wants to inspire more of them to pursue careers in STEM fields.
"Students are just clueless when it comes to knowing what are the cutting-edge careers that are cool and appealing and actually matter to them," he said.
Irving says students sometimes get bored and disengaged with STEM subjects. He used to be one of those kids himself. Through the Flying Classroom blog, Irving shares interviews with geologists and researchers to show students the diverse applications of STEM subjects.
His efforts seem to be paying off. Seventh grader Lucas Rivera listened intently to Irving's stories of giving up his football scholarship to pursue his dream of aviation. As Rivera waited to take a picture with the captain, he said he could see himself in Irving's shoes one day.
"He started from the bottom, and he just came to the top by trying his best in everything he did," he said.
Eighth-grader Jacquelyn Morales watched a Flying Classroom video in her science class. She says the lesson helped her see how subjects like history and art can relate to STEM.
"I think it's really cool how it all comes together and you learn about each thing and how it all ties up," Morales says.
Irving says the Flying Classroom's first expedition has been a success. It's made him something of a celebrity among the k-12 crowd.
"I don't think I've ever done so many selfies in my life with students," he says. "The reaction has really been great."