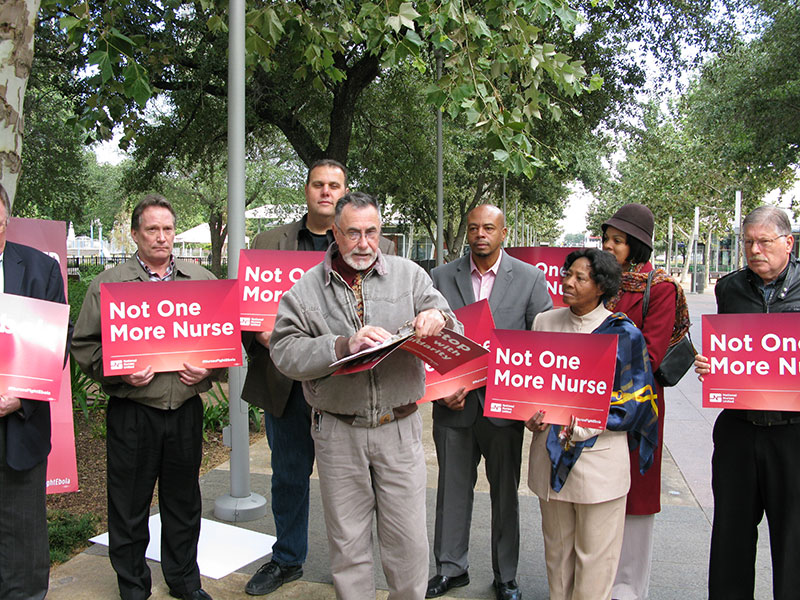 Terry Hardin, a Houston nurse, joins other nurses and Texas labor leaders who want federal mandates imposed on hospitals to keep nurses safe while treating Ebola patients.
National Nurses United, a union, organized a series of events across the country Tuesday and Wednesday. Nurses in California struck over contract issues, with Ebola a secondary issue. But in Texas, where less than ten hospitals are unionized, Ebola preparedness was the primary rallying point.
Paula Littles organized a gathering of nurses and labor leaders at Discovery Green in downtown Houston.
"I don't think that anyone in America actually thought that it would ever leave the shores of Africa," said Littles, the Texas organizer for National Nurses United. "And not only did it leave the shores of Africa, it landed in Texas."
After two Dallas nurses became infected, the CDC did update its guidelines for the protective gear nurses should wear, and the training they should get. But Carol Moore, a retired nurse, emphasized that there's no enforcement behind those guidelines. She works on health issues for the NAACP in Texas.
"The frontline worker has to be trained. And training costs money," Moore said. "So you can have all the rules you want on paper. But when it comes to enacting and enforcing the rules, are they being done? Is there a mechanism to monitor what people are doing?"
The NNU wants Congress or the administration to mandate that hospitals get specific protective gear and provide regular training on the equipment and infection control.
Kevin Troutman, an attorney with the Houston office of Fisher & Phillips, represents hospitals and other healthcare businesses in labor disputes. He said hospitals have learned a lot from "patient zero," Eric Duncan in Dallas, and are stepping up training and preparedness for Ebola.
But Troutman said he's more likely to get questions about workers who have traveled to Africa, then come back to the U.S. Employees want to know the legal ramifications of assessing workers for exposure risk and perhaps telling them to stay away from work for a few weeks.
"I've had questions where employers have people returning from Africa," he said. "It may be East Africa, it may be Nigeria — where it's not an endemic Ebola outbreak at this point."
Troutman said employers need to defer to the medical experts and government protocols for looking at the real risks that a person was exposed.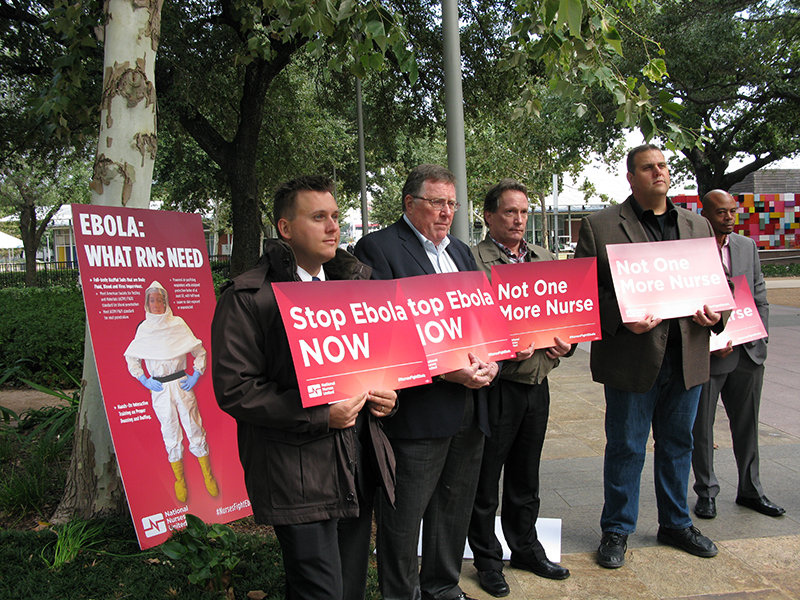 "Don't knee-jerk just because somebody's been to West Africa even, and say 'Well, this person must have Ebola.' That's probably not going to be the case.'"
Troutman explained that if managers want to be cautious, they could tell a worker who had traveled to certain African countries to stay home for three weeks, with pay. But even that solution must be used carefully.
Under the Americans with Disabilities Act, workers can sue if they feel they were ostracized or stigmatized because they were regarded by others as having a disability. And Troutman said Ebola could be perceived as a workplace disability.
Employers need to take this opportunity to create policies for all infectious diseases, not just rare ones like Ebola.
"I don't think employers still need to be 'worried' about Ebola," Troutman said. "Employers do need to look at having a plan for what do they do when there's some sort of a public health issue, whether it's Ebola, H1N1, SARS or anything else. That's what I think is the bigger issue."