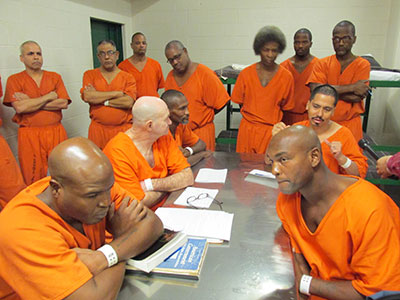 As part of the "Stars and Stripes" program at the Harris County Jail, 26 veterans share a community cell.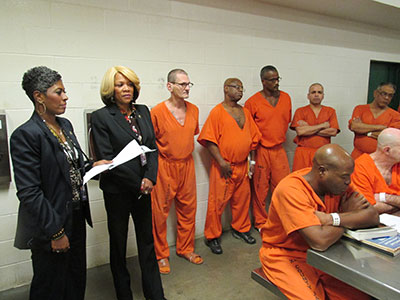 Jennifer Herring, director of reentry services, listens to veterans at the Harris County Jail.
Victor Hammonds was sentenced to 10 years in prison after an intoxicated hit-and-run accident that left a motorcyclist badly injured last fall.
Since then, he has been in the Harris County Jail and is now awaiting transport to state prison.
But despite the gloomy outlook, Hammonds is optimistic about his future.
"I will be a success when I get out and I will not have to worry about looking back," he said. "I can just look forward and walk forward and take it one step at a time."
It works in Hammond's favor that he is an Air Force veteran in the Harris County Jail.
The Sheriff's Office recently launched a program for incarcerated vets called "Stars and Stripes." As part of it, up to 26 veterans share a community cell, and they're connected with resources and services from providers such as the VA hospital or nonprofits like U.S. Vets.
Hammonds said that's how he found out that he has post-traumatic stress disorder, or PTSD.
"Two F4 fighter jets crashed and I was on a search-and-rescue team where I actually witnessed skull fragments in helmets and legs and foot still in army boots," he said.
That was during his service in the 1980s. Hammonds said while he doesn't consider himself an alcoholic, he admits to having a drinking problem. But he had no idea about his PTSD, let alone how to treat it, until he went to jail and got admitted to the "Stars and Stripes" program.
"It was good for me because I would not be familiar or aware that this program existed or there are programs and organizations out there that would help me with what I'm going through," Hammonds said.
Jennifer Herring, director of re-entry services at the Harris County Sheriff's Office, said about 10 percent of the estimated 10,000 inmates are veterans.
"We know that based on the research, a lot of our homeless population are veterans," she said. "We know that a lot of our veterans are suffering from mental illness that is undiagnosed and untreated. So, because of that large need, because of the high rates of recidivism for the homeless population, we decided to develop a program that targeted this population."
Since the program only holds 26 veterans, there is a long waiting list. But Herring said it usually doesn't take longer than a few days for someone to get in because of the high turnover rate in the jail. Most offenders are housed here only temporarily.
Victor Hammonds may have a long time to go, but he already has a plan for his life after prison. He wants to go back to school and become a clinical psychologist.
"I have an associate degree of applied science," he said, "and with the help of the military I can get my degree maybe and my master's to become one."