Texas Gov. Rick Perry makes his first court appearance on felony charges that accuse him of abusing his power when he vetoed funding for public corruption prosecutors.
Indicted Texas Gov. Rick Perry made his first court appearance in Austin this morning. In pre-trial arguments, lawyers for Perry called the felony charges unconstitutional, asking the courts to throw them out.
Special prosecutor Michael McCrum answered: "Mr. Perry, through his attorneys, can't create or invent Texas law that's not there."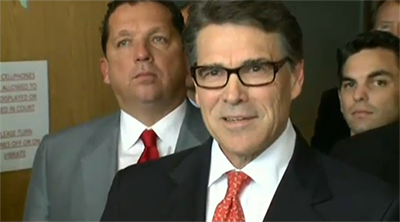 After court recessed, Perry spoke with the media. This image was captured during a live stream of Perry's comments.
After court recessed, Perry spoke with the media.
"You know, as governor, I took an oath to faithfully uphold the Constitution of Texas," said Perry, "a pledge that I have kept every day on behalf of the Texans that I've worked for the last 14 years. That same constitution clearly outlines the authority of any governor to veto items as his or her discretion."
Perry was indicted on Aug. 15 on the two felony counts of Abuse of Official Capacity and Coercion of a Public Servant.
"I'm here today to restate the lawful constitutional authority of a governor to use his or her veto authority," said Perry. "I stand behind my authority and I would do it again. I stand behind that veto and I would make that veto again."
Judge Bert Richardson expects to rule on those issues Tuesday or Wednesday of next week.
In this article, the Associated Press contributed McCrum's comments.