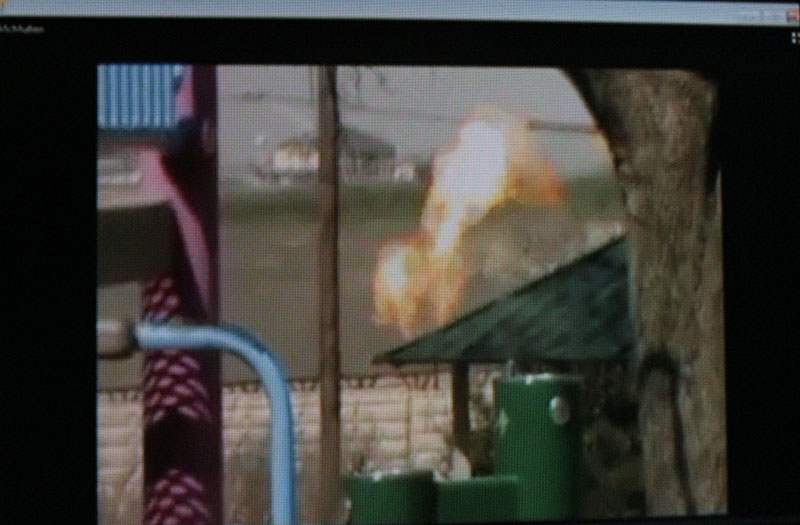 A citizen's group presentation before Denton City Council on July 15, 2014. The image shows a flare from drilling site near a playground. Image Credit: City of Denton website
The Texas Oil & Gas Association has filed a request for an injunction to block enforcement of a ban on hydraulic fracturing, passed yesterday by voters in the North Texas city of Denton.
The industry group's attorney, Tom Phillips, a former chief justice of the Texas Supreme Court, says the courts must "give a prompt and authoritative answer" on whether Denton voters had the authority to pass such a ban. He says the fracking ban violates the Texas Constitution.
"The game isn't over yet," says Christopher Ross, an oil and gas industry consultant and professor at the University of Houston's Bauer College of Business. "But there's no doubt that nobody, especially in suburban areas, nobody really wants a drilling rig in their back yard. And I think other places where the industry is coming close to more densely populated areas, there's going to be similar challenges."
Nearly 60 percent of Denton voters cast ballots Tuesday in favor of the ban. Mayor Chris Watts released a statement, saying the Denton City Council is committed to defending the ordinance against legal challenges. The city attorney's office is currently reviewing the Oil & Gas Association's legal filing and had no immediate comment.
The gas fields under Denton have produced more than $1 billion in mineral wealth and pumped more than $30 million into city bank accounts.