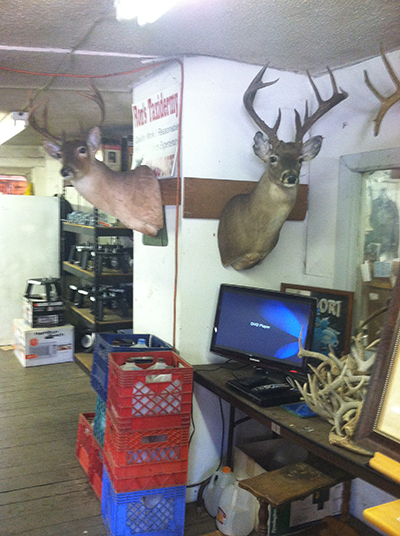 James Johnson's prized deer heads adorn the walls of his hunting store in North Houston.
Deer season in Texas begins on the first Saturday of November, 30 minutes before sunrise. It's a day that many avid hunters look forward to all year.
James Johnson owns A&J Supplies, a hunting store in North Houston.
"Most people relax when they're hunting," Johnson said. "It gives them a feeling of independence."
The shop is filled with handmade deer feeders and various animal traps. Johnson's own prized deer heads line the walls. The store was empty on Halloween, the eve of deer season. Johnson says many hunters begin preparing as early as June, visiting their grounds and assessing what supplies they need.
"Serious hunters get excited about it," he said. "They don't know what to expect until they get out there and look at the pasture, look at the animals and see what kind of condition they're in."
Johnson himself leases 5,600 acres in McMullen County in South Texas. He's hunted on that land for 26 years, and he says he works hard to conserve the deer's natural habitat.
"The hunter nowadays is much better educated than they were say, 20 years ago, 25 years ago, in the conservation, and it shows where there's been improvement," he said.
Bobby Eichler is a biologist with the Texas Parks and Wildlife Department. In an interview with Houston Matters, he said all hunters must obtain a license and complete a hunter's education course. If they're hunting on public land, they also need a permit. When done responsibly, Eichler said hunting is beneficial for the environment.
"Hunting is needed to keep wildlife populations in check, speaking of deer, and stuff of that nature," he said.
Thanks to recent rainfall, the deer's natural habitat is thriving. Clayton Wolf is with the Parks and Wildlife Department. He explained in a YouTube video why rain is good news for hunters.
"We think we're going to have a good year for deer hunting," Wolf said. "Around May, we started getting some rainfall west of Interstate 35, and June and July were actually pretty pleasant here in Texas which put a lot of forbs and a lot of growth."
Forbs are flowering plants that deer thrive on. More vegetation means more deer for hunters. Deer season runs through January 4 in North Texas and January 18 in the South Texas.