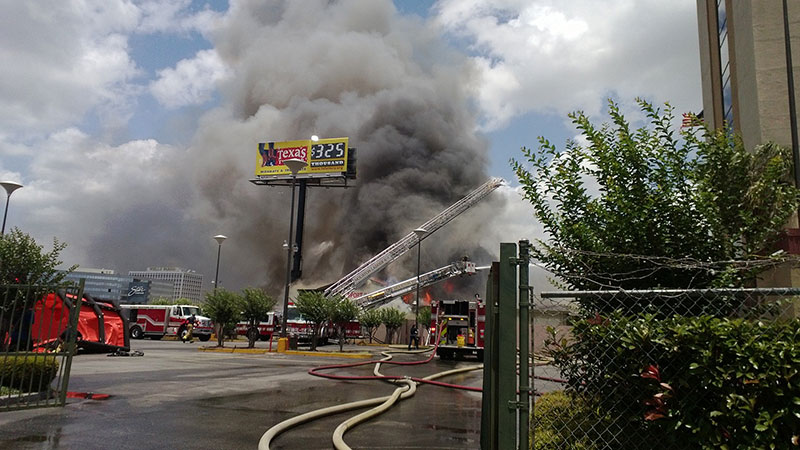 5-alarm fire at Southwest Inn on May 31, 2013. Photo taken by Conner Clifton
The state fire marshal's office released its report on the 2013 Southwest Inn fire that killed four Houston firefighters.
It makes eight recommendations:
"There was no pre-fire plans of this structure. The Houston Fire Department had responded to this location in the past but there is no indication of a record of a site diagram, fire protection systems or construction methods."

"Initial entry crews did not perform a 360-degree scene size up."

"Firefighters were not aware of the severity of the fire conditions present overhead and that structural members of the roof support system had become compromised. When E-51 reentered the strucutre, the TIC was not utilized to assess the progress of the fire in the attic space above them."

"Situation reports and key discoveries were not consistently comunicated to Command so that fire location, spread, control progress and other vital information could be monitored and factored into the decision-making process. Command did not communicate to the interior attack crew the conidtions noted on the exterior."

"There was a lack of personnel accountability."

"Radio communications were difficult, if not impossible."

"A personnel accountability report (PAR) was not completed immediately after the collapse and Mayday."

"A manageable span of control was not maintained by some components of the ICS structure. In the moments after the collapse occurred, numerous resources were sent to the Alpha Division Supervisor with no indication that these resources were divided into manageably sized work groups."
Houston Fire Chief Terry Garrison says the department is already making changes.
"When we arrive on the scene as firefighters, we need to understand that that may not have been when that actual fired occurred. It may have started an hour earlier, two hours earlier, In this case, three hours earlier," Garrison said. "So we need to learn from that. And we will."
The firefighters died when parts of the structure collapsed on them.
Texas State Fire Marshal report