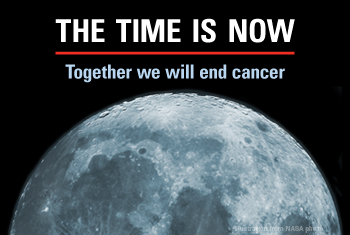 From the M.D. Anderson "Moon Shots" campaign.
MD Anderson Cancer Center launched the "Moon Shots" program two years ago. The goal, as the name suggests, was to bring to oncology research the same scientific urgency and collaborative energy that America used to win the space race in the 1960s. There are eight "Moon Shot" efforts, targeting eight different kinds of cancer, with the goal of speeding up research and reducing deaths.
Bruce Campbell, 80, is a patient from Amarillo. He has lung cancer that may be related to the years he spent assembling nuclear weapons. Campbell is taking part in a clinical trial for a drug that has shrunk his tumors. He's also allowing scientists involved in Moon Shots to genetically analyze his tumors.
"As of now I'm healthy, I feel good, I still climb mountains, I still run, I still work out every other day. I feel great!" Campbell told a gathering of MD Anderson doctors, donors and administrators at a Moon Shots celebration on Thursday.
Some of the new clinical trials launched by Moon Shots will go on for years. But in at least one cancer, Moon Shots has already had a big impact on treatment.
"For women with ovarian cancer, we've completely redesigned the way that we provide care," said Dr. Anil Sood, a gynecological oncologist. "Historically, for the last many decades, most of the women who came in for care, they would have surgery up front."
This surgery is called debulking. Sood said that before, doctors had different ideas about when to do the surgery, and how to combine debulking with other treatments.
"Some people would take patients to the OR and not do laparoscopy at all, and other people would make decisions to just give chemotherapy up front but without really a specific reason, at times, to do so," Sood explained. "But now it's very organized and very systematic."
MD Anderson has 21 doctors who focus on ovarian cancer, according to Sood. Through Moon Shots, they decided on a new standard of care that they would all follow.
Now women first undergo exploratory laparoscopy. During that procedure, two doctors independently peek inside the abdomen and see how far the cancer has spread from the ovary.
The two doctors compare assessments, and based on a scoring system, decide whether the woman will get debulking surgery right way or first get chemotherapy to shrink the cancer.
Sood said Moon Shots really forced all of them to sit down together and collaborate
"The Moon Shot effort, it's a very goal-oriented milestone effort," he said. "We were charged. This wasn't an option. We were charged that we had to come up with ways to improve outcomes within a five-year period."
The new protocol is working, according to Sood. The change has made sure women get surgery at the right time, and made it easier for surgeons to cut out all of the visible cancer — a surgical goal that has already been proven to extend survival.
Sood hopes other hospitals will adopt the practice. He's writing about the new protocol for an upcoming issue of the medical journal Nature Reviews Clinical Oncology.