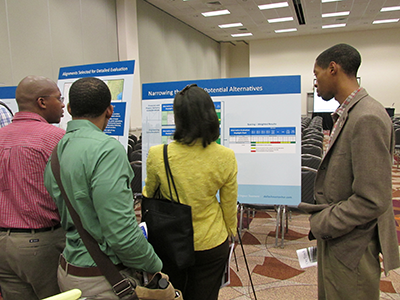 Houston residents and rural landowners attend a public meeting to discuss proposed routes for a high-speed train between Houston and Dallas.
As plans for a high-speed train between Houston and Dallas move into the next phase, some people along the route are worried about what the new rail line means for their quality-of-life. They expressed their concerns at a meeting the Federal Railroad Administration held in Houston.
As part of an environmental impact study, officials heard public comments concerning two proposed routes along the west side of I-45. One route runs alongside existing railroad tracks. Another is along a utility easement.
The study will also consider sites for train stations in Houston and Dallas. Travel time between the two cities would be about 90 minutes.

The $10 billion project is a private venture of Texas Central Railway, headed by former Harris County Judge Robert Eckels. He says they'd like to run the train along existing rights-of-way as much as possible, but in some cases they'll have to acquire property.
"A lot of it is an educational process, and a lot of it is going to be how we can deal with those individual issues as they come up, and each one is different."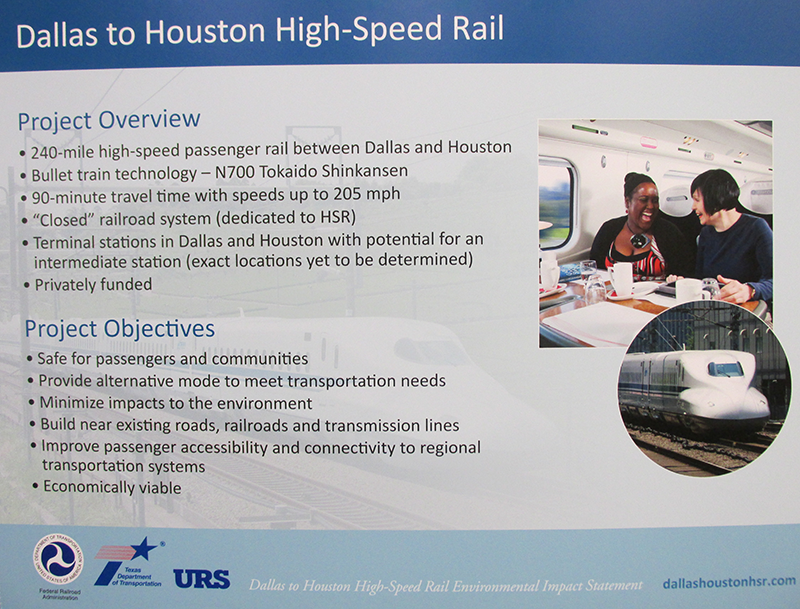 Dallas to Houston High-Speed Rail highlights
But some of the rural landowners at the Houston meeting say they don't think they're being treated fairly.
Susan Baerst came to the meeting from Waller County where she owns 43 acres. One of the proposed routes would take the train through about 12 miles of the county.
Baerst says she's upset the Federal Railroad Administration didn't come to Waller County to hear her concerns.
"We cannot lose those lands in order to move forward on our agricultural efforts, in terms of local food efforts. We cannot lose that land in terms of conservation, as it impacts water conservation."
Another rural landowner at the meeting was Kyle Workman. He owns 110 acres in Jewett, midway between Houston and Dallas. Workman says he currently has a freight train going through his property, but he worries about a high-speed train that runs every 30 minutes.
"You know I would hate to have to do it, but I may have to file a lawsuit. I don't understand how we're this far without any contact with the people who are going to be affected."
Officials with Texas Central Railway say the understand the landowners concerns, and the company may hold its own series of educational meetings alongside the federal approval process.
Shaun McCabe heads the railway's engineering and environmental approvals. He says they hope to present multiple options to landowners along the train's path.
"We would look at property outside that actual area that would be used for the railroad, and as it relates its impact on that unique parcel of land, and there's compensation to be had."
The Federal Railroad Administration is taking public comment through November 14. Texas Central Railway hopes to start construction in 2016, and officials say the line could be up and running by 2021.
Click here for more information on the project.