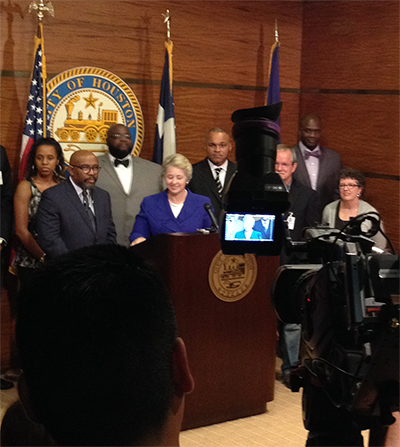 Mayor Annise Parker says after meeting with seven national clergy leaders, she's decided to withdraw the subpoenas.
"After a great deal of soul searching and discussion with folks from inside Houston and from across the United States, it is extremely important to me, to protect our Equal Rights ordinance from repeal," says Parker.
Parker says the issue was not about silencing her critics, but of doing the right thing.
"The right thing is to defend the charter of the city of Houston and the constitution of the United States, and we are a system of laws and they failed to meet the legal standard, to put something on the ballot," says Parker.
The ordinance that bans the discrimination of all residents, including gay and transgender individuals, is opposed by many religious leaders because they say it goes against their teachings. Pastor Steve Riggle with Grace Community Church was among the five pastors behind a petition to have the ordinance repealed.
"If the mayor really wants to do what's right for the city, she'll let the people vote, and let the citizens of Houston decide this. Remember, that's all we ask in the first place. Let the people vote," says Riggle.
This all stems from a lawsuit filed by opponents of the Equal Rights Ordinance. The case is set for trial in January. If the opponents succeed, it would put the issue on a ballot referendum in November 2016.