President Reagan's remarks on East-West relations at the Brandenburg Gate in West Berlin, Germany on June 12, 1987.
President Reagan: "Mr. Gorbachev, tear down this wall!"
President Ronald Reagan made that speech in Berlin in 1987. Within two years, a series of political changes was occurring in the so-called Eastern Bloc, starting with the erosion of pro-Soviet political power in Poland and Hungary.
On November 9th, the East German government announced that its citizens could visit West Germany and West Berlin. That evening, crowds of East Germans crossed through the gates and climbed over the wall, welcomed by West Germans in a celebratory atmosphere.
Clemens Kroll, Germany's Deputy Consul General here in Houston, was taking a foreign service exam in Bonn at the time, and remembers the fall of the wall like it was yesterday.
"It was just sheer, sheer joy, and people not believing what was happening. We were all overjoyed and flabbergasted, and even though we had watched the events in the former GDR very carefully, (it) came as a surprise to almost everyone. So everybody on that day knew that German unification was around the corner, and unification came then one year later."
The consulate general in Houston represents Germany in Texas and four other states. There's a tie between Texas and Germany.
"There is so much German tradition here in Houston and then in Texas, because Texas in the 19th century was a focal point for Germans to immigrate to. Particularly if you go into the Hill Country, you'll have whole cities that still have German street names and so on. So we have a tradition there that we cherish."
Deputy Consul General Kroll says Germany is grateful to two Texans.
"We as Germans always know to whom we have to be grateful for German unification and that is the United States, and two Texans — George H. Walker Bush and Secretary of State Baker. And he's just come back from a visit to Germany where he was in Berlin and Leipzig to also to commemorate the events of 1989. So yeah, he's one of our firmest allies."
A section of the wall is on permanent exhibit at the Baker Institute. Houston has a sister city agreement with Leipzig, and the Gerwandhaus Orchestra from Leipzig appears at Jones Hall on November 3rd to commemorate the fall. And on Sunday, the James Baker Institute for Public Policy has a discussion on the dramatic events of 1989.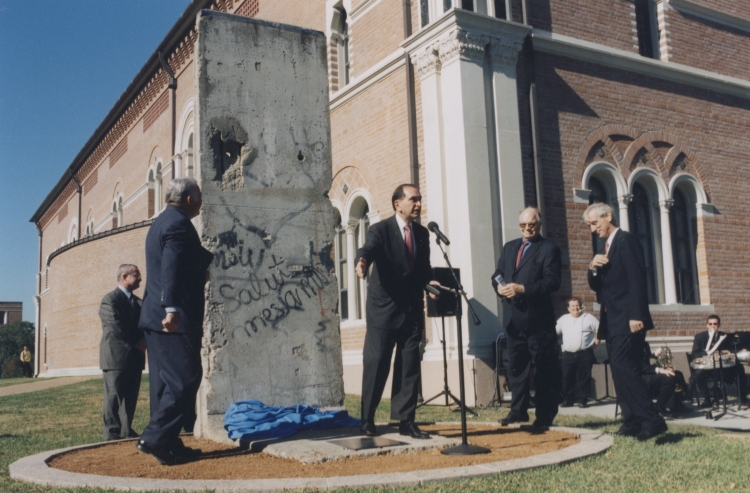 Dedication of piece of Berlin Wall at the James A. Baker III Institute for Public Policy, Rice University," November 16, 2000. Rice University, http://hdl.handle.net/1911/71851.