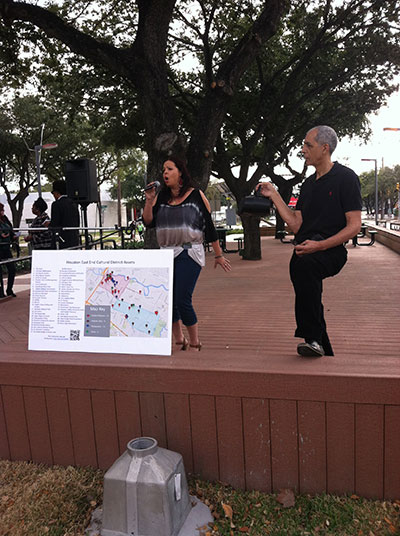 Kyra Noons performs in the East End, celebrating the neighborhood's distinction as a cultural district
Kyra Noons is a reggae musician better known by her stage name, Neutral Sister. She's performed in some iconic local venues like the Toyota Center, but Noons says she feels right at home playing shows in the East End.
"It's a little spot that always came with big poetry, big ideas and big music and good food," she said.
East End officials have been working to achieve that recognition for their neighborhood. They applied to be named a cultural district by the Texas Commission on the Arts, and they just received the official designation. The East End is now one of five such districts in Houston. The areas' cultural heritage is recognized in the hopes that it will stimulate economic development and promote local identity. Diane Schenke is the president of the Greater East End Management District.
"The East End was where Houston started, and we think the East End is where the future of Houston will be invented also," Schenke said.
The East End contains the site of Harrisburg, an early trade post and the center of government for the Republic of Texas. The area became a cultural melting pot, attracting immigrants from Mexico to Germany.
Schenke says her organization has been working to gain cultural district status for more than a year. First, they had to identify the cultural assets in the area, like the historic Evergreen Cemetery and the Urban Harvest farmer's market. Next, they had to show how those resources would promote economic development.
Speaking to a crowd of residents, Schenke said the new distinction will unite the community.
"The cultural district really allows all of us to work together and market ourselves together, and we've already started on that," she said.
Congresswoman Sheila Jackson Lee represents the East End. She told the crowd that the new distinction will educate people about the area's rich history, attracting more businesses and tourists to the area.
"Tell the story," Lee said. "Culture equals economics equals money."
That culture is what keeps people like Kyra Noons coming back to the East End.
"Seems like it's getting even more diverse because I'm bringing reggae to it this year," Noons said. "Let's just keep adding the different aspects of the cultures within Houston."
The celebration continues this weekend at the East End Street Fest. The event kicks off Saturday, Oct. 25 at 11 a.m. and is free and open to the public.