Former president Earnest Gibson III was found guilty along with his son and two others for falsifying claims worth $158 million.
Prosecutors said the group was part of a scheme to shuttle patients to the hospital in exchange for kickbacks to recruiters or group homes. The patients didn't get any psychiatric treatment and often didn't need any.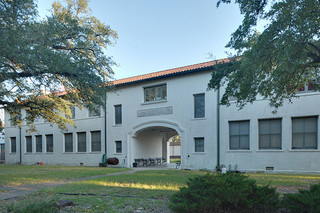 Riverside Hospital in Houston's Third Ward. Photo courtesy Ed Uthman/Flickr.
Riverside opened in 1926 as the Houston Negro Hospital. Recently it narrowed its focus to mental health and substance abuse. Six people have already pleaded guilty in the kickback scheme.
This summer the hospital shut down a second location, a drug treatment center it operated in the Fifth Ward. Inspectors found problems there with air conditioning, plumbing, hygiene and fire safety.
Linda Edwards Gockel is with the Texas Health and Human Services Commission. She said the executive commissioner, Dr. Kyle Janek, decided to make a personal visit in August to see for himself.
"Dr. Janek went to visit the hospital because he knew it had that tradition of history and significance in Houston, and he was very concerned about what state inspectors had found there," Gockel said. "Based on that visit and the history of the issues with the hospital, he told them he couldn't justify letting them stay open."
The hospital agreed to surrender its license for the second location. State officials confirmed that Riverside Hospital still has a hospital license, but is offering just two services at its Third Ward campus: methadone treatment and detoxification.