A new study of healthcare organizations in Greater Houston and the nation's capital finds that half of medical facilities surveyed in those two cities are using outdated HIV-testing policies. They were drawn up by the National Centers for Disease Control and Prevention.
Researchers involved in the survey say not following these guidelines is a missed opportunity in diagnosing people early and helping to treat the spread of the virus, which leads to AIDS.
Dr. Thomas Giordano is an associate professor of medicine and infectious diseases at Baylor University. He helped conduct the survey.
Giordano said the 2006 CDC guidelines include making HIV-testing routine for all adults and adolescents, without assessing the risk of potential exposure to HIV or infection. He also describes a more streamlined process between the counselor and the patient.
"There would be an 'opt-out' approach rather than an 'opt-in' approach," Giordano said. "Meaning that you don't ask someone if they want the test, you advise them that they will have a test unless they don't want it."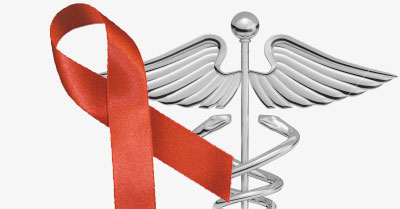 graphic by Valerie Lawhorn
A group of health officials in Houston and Washington D.C. are working to help facilities enhance HIV-testing.
Two major Houston health care providers — Harris Health System and Memorial Hermann — have said their institutions are using the 2006 CDC guidelines.
Marlene McNeese of the City of Houston's Health and Human Services Department says these providers meet frequently with the department and serve as a model for other clinics.
McNeese said those facilities who are still using older CDC guidelines were not identified in the survey.
"The only follow up we did conduct was those facilities who did report wanting and desiring a need for more training and more assistance from public health regarding their HIV-testing," she said. "We did follow-up specifically with those individuals."
The study also found that some counselors seemed hesitant to bring up the notion of getting tested for HIV, fearing that they'd offend patients into thinking they were promiscuous or that they may be at risk.
Dr. Giordano said there's a disconnect.
"Patients want to be tested," the researcher said. "They think that you would offer them a test if you thought that they needed it, or that if you don't offer them a test they must not need it, or that you're already testing them and that you haven't mentioned it, because that must mean that they're negative."
Giordano said a cultural shift in thinking on the provider/patient level is essential in stopping new HIV cases.
The study included 43 organizations representing some 114 medical facilities in the Houston-Harris County area.