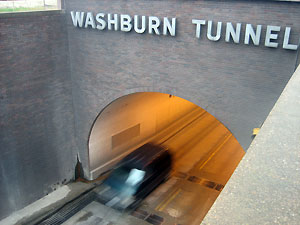 Some drivers will have to find another way to get across the Houston Ship Channel for the next couple of weeks. That's because the Washburn Tunnel is closed for repairs.
Precinct 2 Commissioner Jack Morman says the tunnel will undergo some much-needed work. Crews will rebuild curbs and install emergency lighting. Morman says they'll also do work outside the tunnel.
"All told, with the reconstruction of the entrances and exits and approaches, we're looking at about a $4 million price tag for this project, and the lion's share of that is coming from Hurricane Ike recovery funds."
About 25,000 vehicles a day use the Washburn Tunnel to get between Galena Park and Pasadena, and Morman says the closure will be a major imposition for drivers.
"Their alternate routes are going to be the toll bridge on Beltway 8, the 610 bridge, or way farther east, the Fred Hartman bridge."
The Washburn Tunnel is set to reopen November 2, 2014.