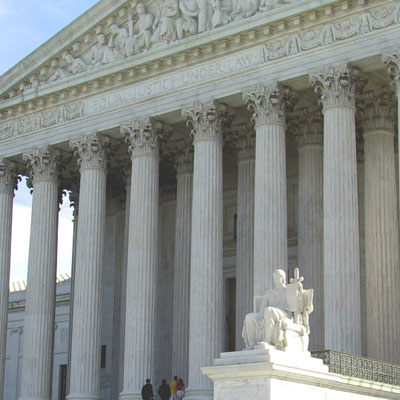 The U.S. Supreme Court in Washington D.C. Photo credit: courtesy U.S. Supreme Court.
The U.S. Supreme Court on Tuesday blocked Texas from enforcing key parts of a 2013 law that would close all but eight of the state's abortion facilities.
The justices largely granted the request of abortion providers Tuesday. With three dissenting votes, the court suspended a ruling by the 5th U.S. Circuit Court of appeals that allowed Texas to enforce a rule making abortion clinics statewide spend millions of dollars on hospital-level upgrades.
The appeals court's ruling suspended an August decision by U.S. District Judge Lee Yeakel, who found that such upgrades were less about safety than making access to abortion difficult.
Yeakel's ruling stopped the requirements, so the state appealed. The 5th Circuit is still considering the overall constitutionality of the measure but allowed it to go into effect.
Supporters of the law say the goal is to improve the safety of women in Texas. They also say that clinics have had plenty of time to meet the new requirements that they become surgery centers.
Opponents argue that the regulations are too strict and are designed to make abortion all but illegal in the state.
If the 5th Circuit ruling was allowed to stand, there would be only eight clinics in Texas that perform abortions and they would all be located only in the major cities of Dallas, Fort Worth, Austin, San Antonio and Houston.