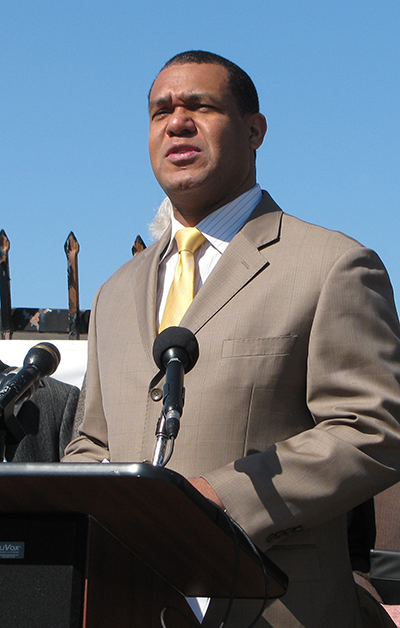 Jarvis Johnson as a Houston council member in 2011.
Harris County Precint One Constable Alan Rosene says he's still waiting to hear from a former Houston city councilman Jarvis Johnson. Johnson has accused his department of theft and brutality.
Johnson was stopped for speeding on the night of September 13 by a member of Harris County Precinct One. He claims he was slapped, robbed and held at gunpoint.
Constable Rosen says unfortunately, the camera inside the deputy's cruiser was not working.
"It hadn't worked in months, and I am a huge proponent of having dashcams, because it really clears up a lot of the ambiguities that may exist in being able to place blame where blame needs to be placed," said Rosen.
Then there's the allegation made by Johnson that $2,500 dollars in cash was taken from his vehicle.
"We have asked by letter, for him to come in and actually make a theft report of that money, so we can start investigating that matter as a criminal matter."
This is not Johnson's first run-in with police. Four years ago, he was charged with evading arrest after police say he refused to pull over for a traffic stop. He was later no-billed by a grand jury, which ended the criminal case.
Johnson has not responded to our request for an interview about the latest incident.
Constable Rosen says it's important that Johnson communicates with his office.
"We also need him to come in and provide us additional information. So, we're hopeful that he assists us with completing the full investigation of this. I feel the same way he does. I want to ensure that everything is done right," said Rosen.
Rosen adds it's still early in the investigation, and that many questions still need to be answered before he's satisfied with the outcome.