Hundreds of transportation planners are in Houston this week for the annual meeting of the American Public Transportation Association. News 88.7 Transportation reporter Gail Delaughter spoke with South West Transit Association Executive Director Kristen Joyner about the trends she's seeing in public transit.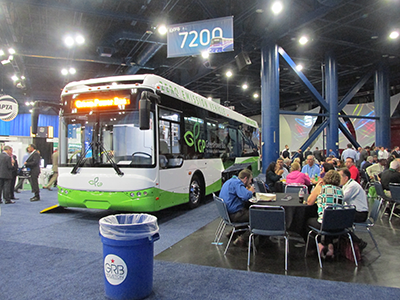 A zero emissions bus is one of the vehicles on display at the APTA annual meeting at the George R. Brown Convention Center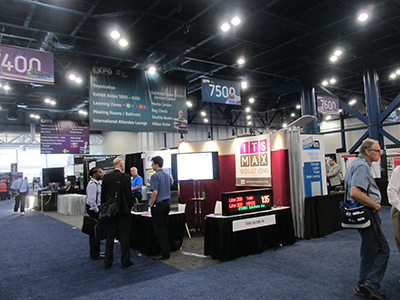 Transit planners from all over the world gather in Houston for the annual meeting of the American Public Transportation Association.
Delaughter: What are we seeing in terms of demand for public transit, not just here in Texas but around the region?
Joyner: We are seeing that public transportation is definitely on the rise, especially in younger age groups. You have younger folks who are not getting their driver's licenses. They just don't have the desire to drive. They'd rather go in larger groups with their friends, so public transportation plays right into that, the ability to get on the bus, to meet up on the bus. They're texting each other, they're talking to each other, and it becomes a social event for the younger generation. So that is a real growth area.
Another is people who want to age in place. They want to age in a rural area, they want to age in the place where they've raised their families. They don't want to move into the cities. And there's the veterans population, the people who are coming back wounded and need to be connected to their families but also to services. So that's raising it.
Delaughter: What about the challenges local governments face when it comes to finding the money to fund transit projects?
Joyner: The biggest challenge is the pot of money that's available. I think everyone agrees that infrastructure is the foundation for our country, having good solid infrastructure. Good roads, good bridges, good transit. And the money that's available is not enough to cover all of the needs. So in a state like Texas, where people live in their cars, it's hard for them to think about making the switch to public transit, or supporting public transit, because they feel they might be giving up something.
I think what we have to do as a nation is take a look at our infrastructure, and we are infrastructure poor. We've got to look at how do we make all of these connections work, roads, bridges, and transit. Because all of that keeps us moving.
That's we way that we did it in the 30's and the 60's. We had that vision of infrastructure from sea to shining sea. And we have fallen asleep at the wheel, so to speak. And we've got to wake up to fund our public transportation, fund our roads and bridges.