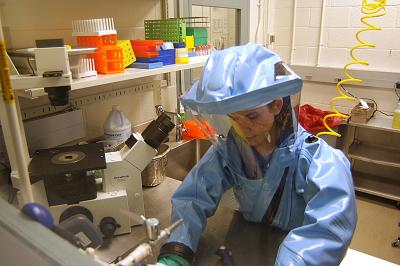 Research inside a biosafety level 4 laboratory shows researcher wearing airtight, pressurized suit. The suits are linked to dedicated systems that include breathing air compressors, alarms and emergency backup air tanks, and a high efficiency particulate air filtration system for the exhaust air. Photo credit: US Army Medical Research Institute of Infectious Diseases.
Thomas Eric Duncan died of Ebola in a Dallas hospital this morning.
"We are extremely sad," said Cephas Acolatse, who leads the Liberian Association of Greater Houston.
He says roughly 4,000 Liberians live here.
Acolatse says he did not know Duncan or details of his case, but was still surprised that he died, given the quality of hospital care here.
"Granted, America doesn't control life or death of a human being, but we've seen others come who survived," said Acolatse.
"It's a very deadly disease," said Professor Thomas Geisbert at UTMB in Galveston.
He studies Ebola and related viruses. He says the death is sad, but not unexpected.
"You're talking about case fatality rates historically with this particular species of Ebola have ranged anywhere from 50 percent to 90 percent. So I don't think we can expect every patient to survive," said Geisbert.
Geisbert is working on some experimental treatments for Ebola, though not the particular drug Duncan received, called Chimerix.
Not much is known about what actually works in humans and what doesn't, but Geisbert says the sooner any treatment begins, the better.
"Any of these drugs like that one is most effective — at least in our animal models — when you give it before the animals get too sick. There's just a point when the virus has done so much damage that you're past the point of recovery," Said Geisbert.