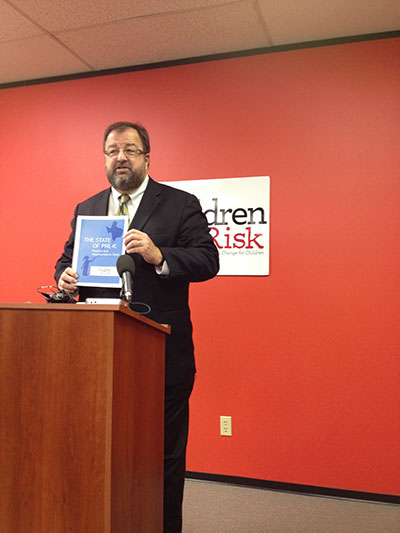 Dr. Robert Sanborn, president and CEO of Children at Risk, holds up a copy of the report, "The State of Pre-K: Realities and Opportunities in Texas"
Advocacy group Children at Risk conducted an assessment of access to pre-K education. This is after Texas lawmakers cut more than $5 billion dollars during the last legislative session.
It learned that some districts were forced to either eliminate full-day programs, or re-allocate funds to continue providing the same level of care.
Dr. Robert Sanborn is president and CEO of Children at Risk. He says 60% of the more than 5 million school children in Texas come from low-income families.
"There's good national research that shows that low-income children, who don't do pre-K, are much more likely to drop out of high school, much more likely to end up in jail. Things that we don't want to see happen, and very expensive things for society," says Sanborn.
Sanborn says a significant chunk of the cuts to education funding the last legislative session was for full-day pre-K.
"That has to be restored, and then we need to take sort of, another look at making sure that it's high-quality pre-K," says Sanborn.
The study found that full-day, pre-K programs ensure that children are ready for kindergarten, and significantly more likely to succeed.