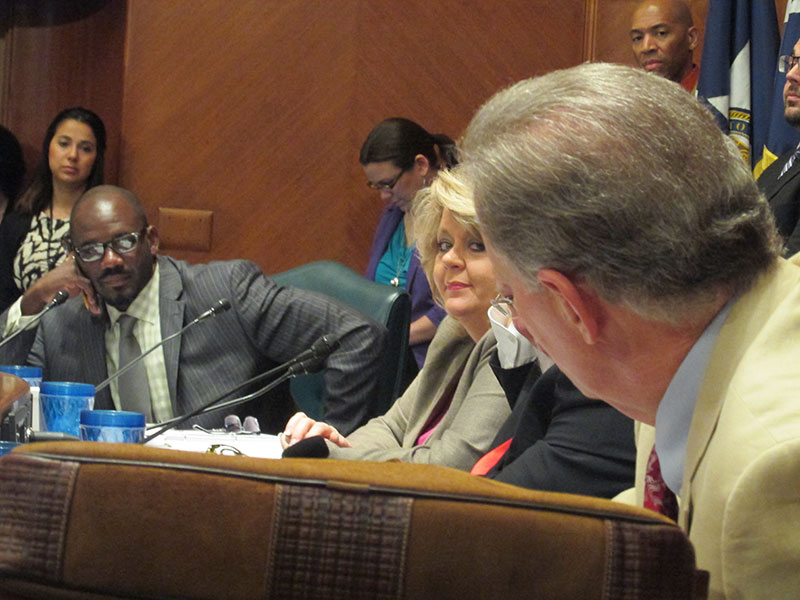 District B council member Jerry Davis (left) asks city attorney David Feldman a question about the no smoking ordinance.
The Main Street Square in downtown Houston reaches from Dallas to Walker Street. It's closed to automobile traffic — just the Metrorail passes through here.
Main Street Square is a bustling place during lunchtime. People are walking to and from offices, lunch spots and the Metrorail stop.
Some are sitting by the water fountains or on chairs outside a pizza place.
There are some smokers, and they are not happy hearing the news out of City Hall. City Council has just amended Houston's smoking ordinance to ban smoking on public plazas.
Smoker Jake Cervantes said the ban really targets homeless people smoking synthetic marijuana, or "Kush," here, and as a result, downtown employees are inconvenienced.
"That shouldn't be banned for smoking cigarettes because of what others do," he said.
Kush is currently still legal, but a proposed ban will be on the agenda for next week's city council meeting.
Cervantes's concern is one also brought up by some council members during the discussion about the new ordinance.
Brenda Stardig said it's not clear if the ultimate objective of the ordinance is to curb the use of Kush, or to protect people from second-hand smoke.
"I'm all about creative solutions in policing and making sure that we're safe," she said, "but I don't see where this was brought together. We were told by the administration that was a separate issue. We've been told numerous things and then led us believe that it's part of it by my colleague (Robert Gallegos) who represents that particular district."
Mayor Pro Tem Ed Gonzalez, in for Mayor Annise Parker who is traveling in Asia this week, said the goal of this ordinance is to create more non-smoking areas.
"I know that some of the discussion kept going to the Kush part, and yeah, this really will enhance the ability to address that growing problem as well," he said, "but the overarching issue was about creating these smoke-free areas."
Council member Jerry Davis also opposes the ordinance. He said it's about freedom.
"I mean, it's outdoors and it's their right. And that's the problem I have with this," he said. "And I understand. Again, my wife, she hates smoke. But we're infringing on someone else's rights. And the question is where we're going to draw the line."
In the end the item passed 10-3, with council members Stardig, Davis and C.O. Bradford opposed. Three council members and Mayor Parker were absent.
Back on Main Street, non-smokers Renee Olson and Joseph Lam had no problem with the new ban.
"It's good for public health," Lam said.
They said they don't hang out in public plazas much but it's annoying to walk past a smoker.
Other than Main Street Square, two other areas in Houston area affected by the new ban: a part of the Columbia Tap Rail Trail between Dowling and St. Charles streets in East Downtown and a part of Dunlavy Street north of Allen Parkway.