Houston came in second among U.S. metro areas for small business hiring in the month of September, behind first-place Seattle and narrowly edging out third-place Dallas. That's according to a nationwide survey by payroll services firm Paychex and economic research firm IHS. Among states, Texas came in third behind Wisconsin and Washington.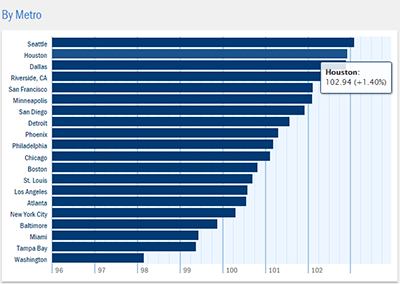 Credit: The Paychex | IHS Small Business Jobs Index
"The most recent numbers, and the numbers for all of 2014, are higher than those numbers, indicating higher small business job growth, higher in 2014 than they were in 2013, indeed higher than any year they've been since the recession, indeed over the last ten years," says James Diffley, chief regional economist at IHS. "However, within the year, the numbers have been sliding downward from a peak in the spring to a little lower level in the summer."
The Paychex | IHS Small Business Jobs Index registered 100.85 for September. That's down nearly half a percentage point from its peak in April. Diffley says the drop is due to slower gains in employment, rather than any loss of small business jobs.