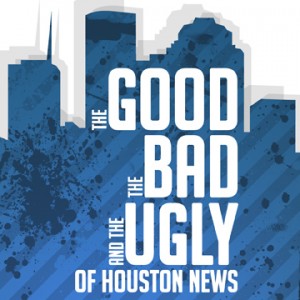 This week: gun rights groups and gun control groups agreed on something — that the TABC should not allow alcohol to be sold at some venues where gun sales take place, both Houston airports now have free Wi-Fi, ground was broken at the new SpaceX spaceport in Brownsville, and some folks are upset saying the "Wings of the City" sculptures downtown are too…well…anatomically correct.
We discuss The Good, The Bad and The Ugly of Houston news.
This week's panel of non-experts is: Wayne Ashley is the author of the Texas Leftist blog, Maria Heg is an illustrator and organizer of Zine Fest Houston, and Charles Kuffner writes the Off the Kuff political blog.