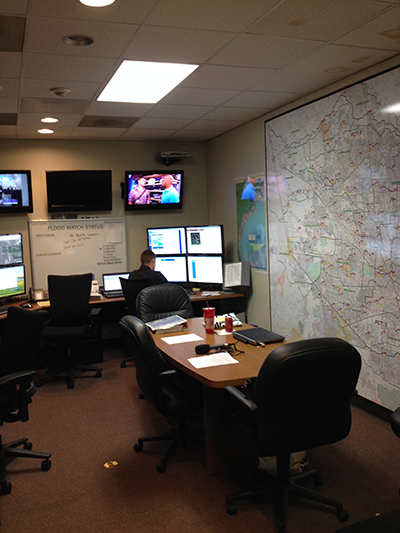 The heavy and persistent rainfall resulted in water levels rising in the bayous, creeks and tributaries. Street flooding also occurred in several areas throughout the county.
Steve Fitzgerald is the chief engineer for the Harris County Flood Control District. We're in a small room with several screens that keep an eye on the watersheds. He says a system in place since 1987 helps keep them on top any situation.
"We call it the Alert Room, the Flood Alert Room," said Fitzgerald. "And what we do here is it gives a place to monitor rainfall, and the stages, or elevations of the water on our channels in Harris County."
The Flood Warning System relies on 133 gauge stations strategically placed throughout the bayous and their tributaries. Fitzgerald says they contain sensors that transmit data during times of heavy rainfall and during tropical storms and hurricanes.
"If a gauge receives one inch in 15 minutes, then an alarm goes off and we get text messages," said Fitzgerald. "And then, on the levels of the water in the channels if it gets to be within 3 feet of a threshold that we set, then an alarm goes off, and there's a lot of people in our flood watch group that get those messages ."
He says with the help of other monitoring devices and the public, Flood Control is able to put together information on what's happening. It is then relayed to the Office of Emergency Management, and eventually to the public so they can plan a course of action.