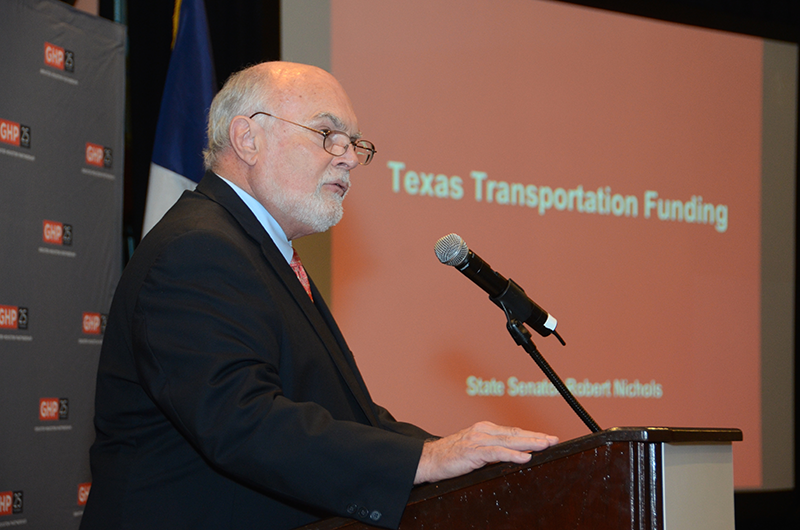 State Senator Robert Nichols, R-Jacksonville, speaks before the Greater Houston Partnership in the annual State of Transportation address. Photo courtesy of Greater Houston Partnership.
The Chairman of the State Senate Transportation Committee was in Houston to make his case for a proposed constitutional amendment that would provide new revenue for highway projects.
Proposition 1 on November's ballot would divert oil and gas tax revenues from the rainy day fund so the money can be used for transportation.

The proposed constitutional amendment would reallocate about $1.7 billion for transportation projects, but analysts say the state's mobility needs are closer to four to five billion.
In the annual "State of Transportation" address before the Greater Houston Partnership, State Senator Robert Nichols says if the measure passes the money would be distributed to local communities according to state funding formulas.
The Dallas-area lawmaker expects a lot of the new money would go toward relieving freeway congestion that hampers the flow of goods between cities.
"For instance the I-35 corridor connects 50% of the population of the state, and it's plugged pretty much from one end to the other. That's commerce flowing through Texas," says Nichols.
Nichols also expects the money will be used to fix roads where there's heavy drilling activity.
"The Eagle Ford Shale, places like that. The oil drilling and rigs counts have been so high on what you would call normal two-lane rural farm-to-market-type roads, they're destroyed, " says Nichols.
The senator says it's essential for Texas to find new sources of revenue to keep up with the state's growth.
Entire Speech: Senator Robert Nichols Gives State of Transportation Address