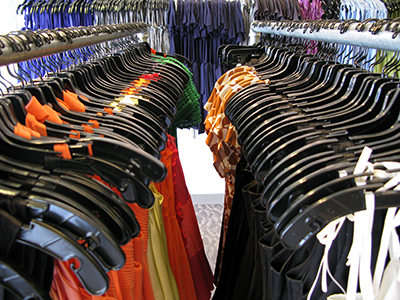 Clothes hanging at retail store. Image credit: free images
Challenger, Gray & Christmas expects U.S. retailers to add more than 800,000 jobs between October and December.
"That would put us back to the levels we saw in 1999 at the top of the dot-com boom," says CEO John Challenger.
The retail sector has been steadily recovering since the recession. During the 2013 holiday season, retailers added roughly 786,000 employees — the most since the year 2000.
"Each year, as more people find jobs, that's more people with the wherewithal to go in and spend some money during the holiday season," Challenger says, "and that means retailers have to staff up to meet that demand. We've seen particularly strong growth in the last year, with averaging over 214,000 new jobs created each month."
One major indicator of strong holiday spending is a recent announcement from outside the retail sector. UPS plans to hire up to 95,000 workers to handle the expected surge in package deliveries between next month and January 2015. That's nearly twice as many seasonal workers as the shipper hired last year.