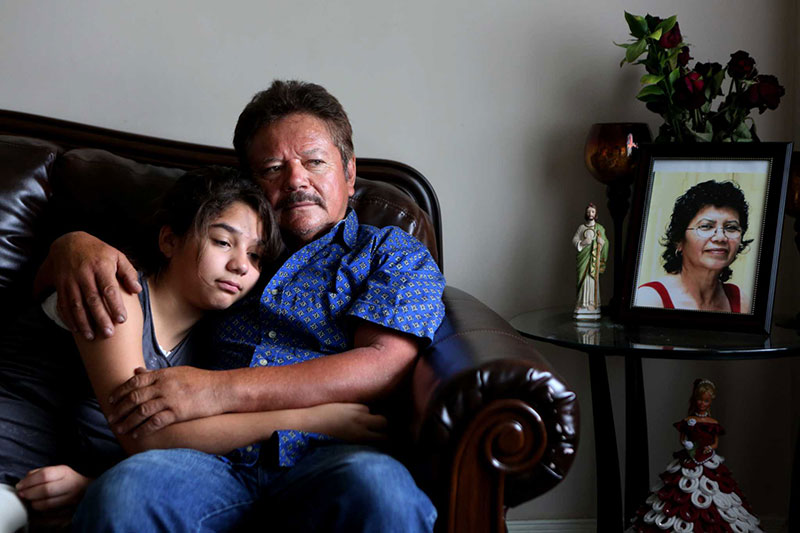 Guillermo Gomez, husband of Vilma Marenco, embraces his daughter in their home in Northeast Houston. Guillermo called his wife at least 25 times and was waiting for her to come home from her job in Humble when she was killed in April 2014 by a trucker who ran a red light. The trucker had no insurance, records show, and the truck, which was hauling pipe, was owned by an oilfield hauling company that had failed an audit and had no valid state license. Statewide, commercial vehicle accidents have increased more than 50 percent since 2009-2014, during the state's on-going drilling and fracking boom. Image credit: Mayra Beltran, Staff Photographer, The Houston Chronicle
In 2013, the Texas Legislature took up House Bill 2741, a measure to toughen the state's trucking regulations. The bill passed, and Governor Perry signed it into law. It includes language designed to help the Texas Department of Motor Vehicles crack down on rogue trucking operations.
Every time a truck driver is cited by law enforcement for a safety violation, it's a black mark against his employer. Too low a safety score and the state can force the carrier to close.
"Heretofore that company would shut its doors as 'Andrew's trucking' and open its doors in the same location, same brick and mortar, same address, as 'John's trucking,' with a clean slate," says John Esparza, president of the Texas Trucking Alliance, a trade group based in San Antonio.
Esparza calls such haulers "chameleon carriers." Under HB 2741, which his organization supported, the Texas DMV now has the power to block chameleons from getting the permits they need to operate.
Denying permits isn't always enough to shut down a rogue hauler. The Department of Public Safety ordered Houston-based R&F Quality Transportation to shut down last December, after a long string of violations. It was still operating in April, when one of its drivers struck and killed Vilma Marenco less than a mile from her home.
Marenco's husband, Guillermo Gomez, is now raising their daughter alone. "This has left a great emptiness for my daughter and me," Gomez says. "The only thing I am asking for is a thorough investigation of all of this and that there be justice."
DPS is the state agency responsible for such investigations. News 88.7 and the Houston Chronicle filed multiple requests to speak with Major Chris Nordloh, coordinator of DPS's Commercial Vehicle Enforcement service, regarding the rise in crashes tied to the oil and gas boom. All were refused, even though Major Nordloh spoke publicly on the same issue at a 2013 conference at Texas A&M University.
The problem has gotten so serious that many local law enforcement agencies are reluctantly putting more of their limited resources into traffic enforcement.
"I never had enough officers to fool with traffic and really didn't want to," says Larry Busby, the long-time sheriff of Live Oak County, in the heart of the Eagle Ford Shale. "You've got DPS working traffic. You didn't need us out there working traffic too. Well, since this happened, I'll put radars in all the cars now."
There are some signs of improvement. Data for 2013 just released by the U.S. Labor Department shows that fewer oil and gas workers died on Texas roads last year than the year before. But 2012 marked a ten-year high for such fatalities. Twenty-thirteen was still the second-worst year for the industry in the past decade.
"The fracking industry continues to boom and to explode," says Benny Agosto, a partner with the Houston law firm Abraham, Watkins, Nichols, Sorrels, Agosto & Friend, "and certainly, folks that live here in Texas, we're grateful for the business and the opportunities that are created for our residents. However, as all businesses go, if you grow too fast or you're too quick to get your numbers up, sometimes what suffers is safety."
Agosto is representing Guillermo Gomez in a wrongful death suit. Civil courts are often the only justice for family members of those killed in accidents such as those we reported on for this series. Few such accidents lead to criminal prosecutions.
Houston Chronicle reporter Lise Olsen contributed to this report.