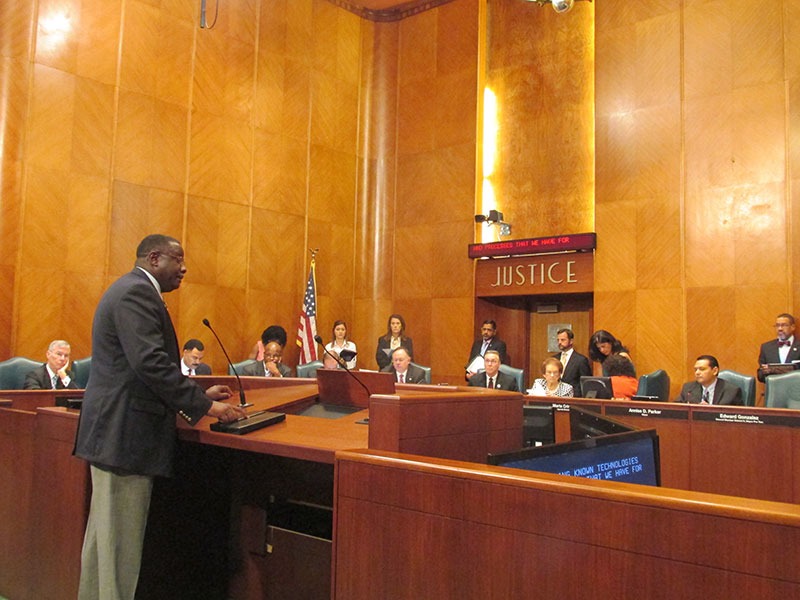 Solid Waste Director Harry Hayes answers questions by city council members about the recycling bin expansion.
Every two weeks, Houstonians roll their 96-gallon recycling bins to the curb. But not all Houstonians.
Currently, only about three-fourths of Houston households have the bins that are picked up by an automated garbage truck. The others have either an 18-gallon recycling tub or no recycling service at all. That's about to change.
City Council gave the green light to purchase 95,000 additional recycling bins for about $5 million — money that should be recovered by the sale of more recyclables and by using less space in landfills. That does not include the additional garbage trucks needed.
It's the end of a process that started in 2009. Since then, more neighborhoods were added incrementally — the last time in May of this year.
It will expand the automated recycling bin program to all Houston neighborhoods.
Melanie Scruggs with the advocacy group Texas Campaign for the Environment applauded the expansion.
"Recycling is something that everyone in the city really wants to see expand, so that we can get up to the national recycling rate that other cities are already reaching," Scruggs said.
Houston's recycling rate lies at around 6 percent — 19 percent if you count yard waste recycling, which is mandatory. The national average is about 34 percent.
Scruggs hopes the expansion is a sign that the city is thinking about abandoning its One Bin for All proposal.
That program would enable Houstonians to throw all their trash into one bin. It would then be separated at a waste management facility.
The hope is to divert up to 75 percent of waste from landfills.
Scruggs doesn't think it's a good concept.
"That kind of technology is not expected to have a good recycling rate because of the contamination of food and kitty litter and diapers with your recyclable materials, like paper and plastic and aluminum," she said.
The city is currently interviewing companies to carry out the One Bin for All services, but at this point the program is not a sure thing.
At the meeting, Council member Michael Kubosh asked what the city will do with the green bins if One Bin for All is implemented.
Harry Hayes, the director of the city's solid waste department, responded.
"If we get to the point where the administration would ask Council to approve a contract for One Bin for All, the bins would remain in force," Hayes said.
In other words, the green recycling bins would be used as the one bin for all trash.
For now, automated recycling collection for all added Houston households is slated to start in January.