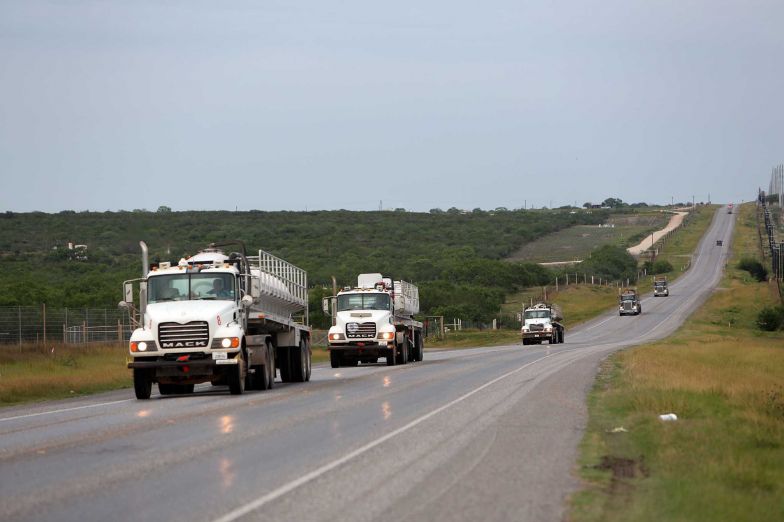 Petrochemical vehicles abound on State Highway 72 near an RV Park where three members of a fracking crew died when their van collided with a school bus. That is one of four accidents on State Highway 72 in which three or more people were injured. The 111-mile-long highway has become one of the state's most deadly roads during the oil boom.
State Highway 72 cuts through the heart of the Eagle Ford Shale in South Texas. The two-lane artery links oil boomtowns like Kenedy and Tilden to the Three Rivers Valero refinery. Local residents call the highway "Death Row."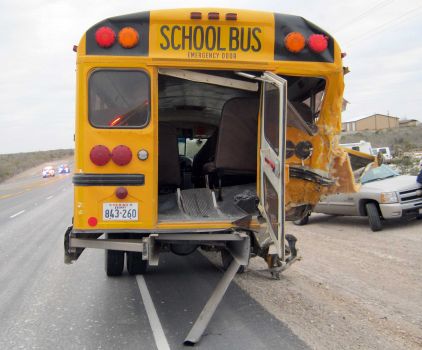 The Three Rivers ISD school bus was totaled in this accident in January 2014, after a fracking crew driver fell asleep and hit the bus. Three workers in a commercial van were killed; but the children were safe. Caption: Houston Chronicle, Image Credit: Texas DPS photo
"Every week someone dies, just about," says Steve Alaniz, a construction manager based in Three Rivers. "There's so many guys that work nights, and there's so many people getting up early. Everybody's in a hurry. The roads aren't big enough for this kind of traffic."
Early on the morning of January 30, a Three Rivers school bus was pulling into an RV park off Highway 72, when a van filled with oilfield workers employed by Compass Well Services plowed into the bus's rear end. Alaniz was one of the first on the scene. He found the students safe at the front of the bus, thanks to school district policy in response to the heavy traffic.
"And then I went to the van," Alaniz says, "and there was an RN there and two other guys that were pulling out of the trailer park. And we got all the guys out that were alive, and three of them were just dead when it happened, I guess."
The dead included driver Daniel Zambrano and passengers Martin Aguirre and Joe Rios. The men had just come off a 24-hour shift. According to the Department of Public Safety's accident report, Zambrano didn't even apply his brakes, indicating severe fatigue.
The crash came just a year after another accident involving a Compass crew driving home after a long shift — also in the Eagle Ford, also resulting in multiple deaths. Compass did not return calls requesting comment.
Texas Mutual Insurance is the state's biggest workers' compensation underwriter. It says oil and gas companies filed 24 claims for fatal auto accidents from January through July of this year. That's up from eight for all of 2009.
"We see a high incidence of motor vehicle operators who've worked fourteen hour shifts, driving down the road and falling asleep at the wheel," says Woody Hill, Texas Mutual's vice president for safety services.
DPS accident reports cite fatigue as a contributing cause in dozens of recent fatal crashes involving oilfield workers. Many wind up piling into a company van and sharing a long commute between their work site and a hotel.
Police radio: "Two dead right now. Several probably critical."
In March 2013, nine Sanjel Corporation employees were returning to their hotel, after a 12-hour night shift near Odessa. A pickup truck hit their van, killing Fernando Portillo of Tomball, Michael Vonesh of Pearland, and Jose Ponce of Canutillo, near El Paso.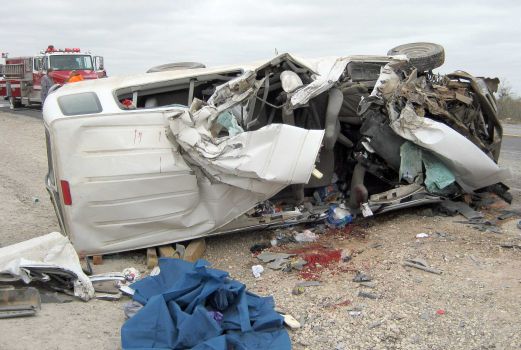 Killed in the triple tragedy on State Route 72 in January 2014 were Daniel Zambrano, of Kilgore, Jose Rios of San Antonio and Martin Aguirre of Brownsville. All three men had completed a 24-hour shift before they were killed on their way to place to rest. Four others riding in the van suffered injuries after the driver fell asleep and struck a school bus. Caption: Houston Chronicle, Image Credit: Texas DPS photo
"Fatigued driving is right there on the same par as driving while intoxicated," says Alexander Gurevich, a Houston attorney representing the victims' families in a wrongful death suit. "To put men in a position of being fatigued and to be driving long distance is not something that a company should do, and it shows a disregard for the safety of their employees."
Sanjel says the driver of the company van has testified that he was not fatigued at the time of the accident.
Insurers like Texas Mutual are leaning on policy holders to make sure drivers are well rested before getting behind the wheel. The statistics show they're fighting an uphill battle.
Houston Chronicle reporter Lise Olsen contributed to this report.