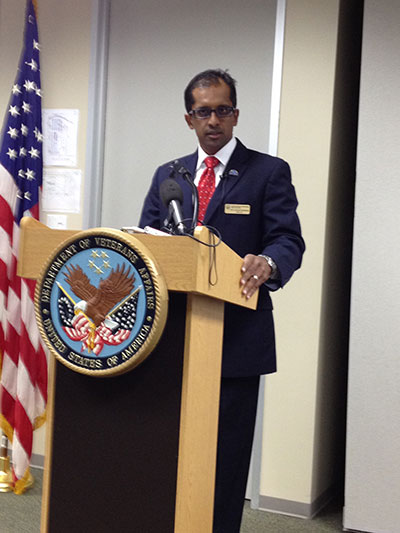 Pritz Navaratnasingam is director of the Houston office of the Veterans Administration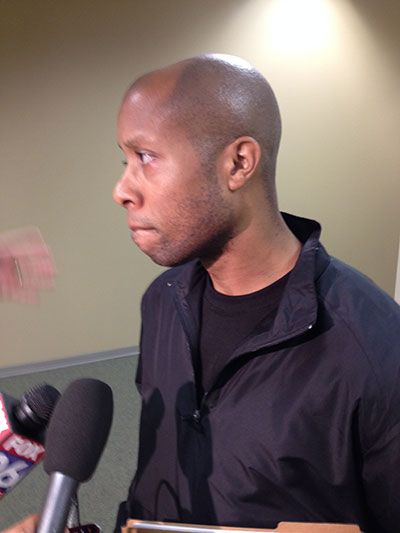 Iraq War veteran Vince Bryant who suffers from PTSD
About a hundred veterans attended the first town hall meeting at the Houston VA Medical Center. The gathering is one in a nationwide series of forums, in the wake of scandals about long waiting times and poor services in other parts of the country.
The majority of the forum attendees served in Vietnam.
Vince Bryant is an Iraq War veteran. He now works at the Michael DeBakey VA Medical Center. He's concerned about post-traumatic stress disorder.
"I'm actually service connected for PTSD," said Bryant. "I'm dealing with it a lot better, thanks to therapy, but there are more issues that need to be addressed. I'm not going to paint this picture as though we're a hundred percent on a path of what we're supposed to be doing. There are points where we all need to make corrections. But it comes in time, it comes in time."
Ralph Wilson served his country in the late 70s. He thinks more veterans should be hired to work in the VA.
"If a veteran has a problem, and he's real physical and mad, another veteran can go talk to him faster than somebody that works here that's not a veteran," said Wilson. "So you need veterans in the VA system itself, because this is a hospital, so we're already trained to work. So this is the place you need to put veterans in."
Pritz Navaratnasingam is director of the Houston Regional Office of the VA. He says he understands that a lot needs to be done for veterans.
"So this is really a listening forum, an opportunity for me to hear, and my staff to hear from our veterans, those who we serve," said Navaratnasingam. "Their concerns, their questions, their feedback. And as we seek to continuously improve our process, we need to make sure we take our veterans and our customers' feedback into account, as we make those changes."
Adrian Savoy served in the Navy when he lost his arm in an accident. He says the VA has been very helpful.
"I was encouraged that they want to do change," said Savoy. "And the VA has been very helpful for me and my family."
Houston's VA Director says he hopes to continue the centralized training structure of employees, and the aggressive outreach that includes reducing the time to process claims for veterans.