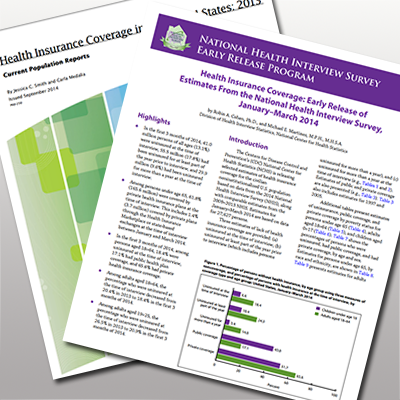 A CDC report and a census report released Tuesday show a slight decrease in the number of Americans who don't have health insurance. The improvement could be related to the Affordable Care Act, but it's too soon to be sure.
The federal government released two surveys about the uninsured on Tuesday. Both show that about 13 percent of Americans have no coverage. For adults who are below the Medicare age, the uninsured rate is about 18 percent.
"The government has different surveys for different reasons," said Mike Cline, a demographer and associate director of Rice University's Hobby Center for the Study of Texas.
The census data show that Texas is still the number one state when it comes to the uninsured. 22.5 percent of Texans have no insurance; that's about 5.7 million people.
The census report sums up data from 2013, and so it doesn't reflect the experience of people who purchased a plan through the Affordable Care Act marketplace. That coverage began in 2014.
But it could reflect earlier policies from the law, such as young adults being able to stay on their parents' insurance until age 26.
The other survey, from the CDC, is a snapshot of the first quarter of 2014 and therefore covers part of the period when people were buying insurance on the marketplace.
It shows an overall drop in the uninsured rate of about 1 percent. Among young adults, it dropped about 5 percent.
But Cline says some people were still finalizing their insurance paperwork in May, so they weren't included in either survey.
"I think we really can't jump to any conclusions on the impact either good or bad of the ACA until the next two or three years and we start looking back, on statistics for 2014 and 2015," Cline said.