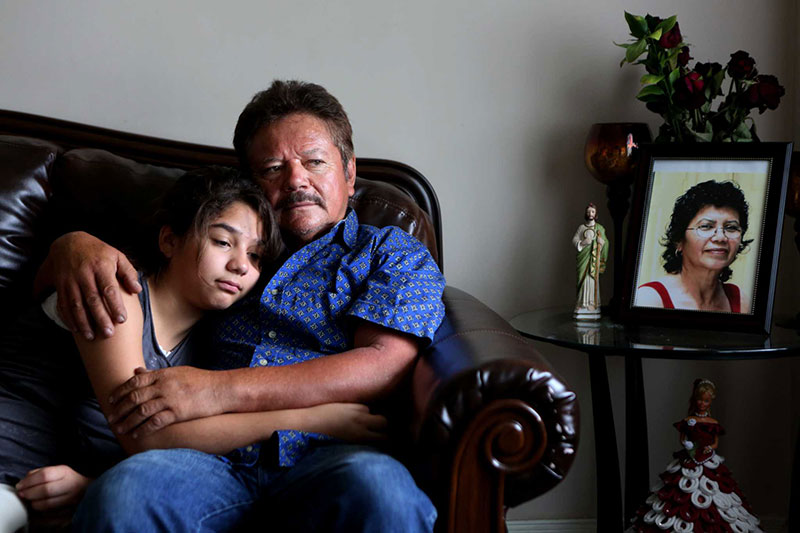 Guillermo Gomez, husband of Vilma Marenco, embraces his daughter in their home in Northeast Houston. Guillermo called his wife at least 25 times and was waiting for her to come home from her job in Humble when she was killed in April 2014 by a trucker who ran a red light. The trucker had no insurance, records show, and the truck, which was hauling pipe, was owned by an oilfield hauling company that had failed an audit and had no valid state license. Statewide, commercial vehicle accidents have increased more than 50 percent since 2009-2014, during the state's on-going drilling and fracking boom. Image credit: Mayra Beltran, Staff Photographer, The Houston Chronicle
Flatbed trucks bearing loads of steel pipe barrel down Old Beaumont Highway, linking East Houston to Beaumont's refineries. Every few minutes, one of them makes a wide turn at a stoplight, crossing onto the much narrower Pineland Drive.
On April 22, Vilma Marenco was driving home after working the lunch shift at Pappasito's in Humble. She'd just entered the intersection, less than a mile from her house, when an 18-wheeler ran the red light on Old Beaumont, crushing her Chevy Cavalier. Marenco's husband, Guillermo Gomez, tried desperately to reach her by phone as he prepared to leave for a business trip to New Orleans.
"I called her, and called her, and called her, but she never answered," Gomez said. "So I returned home and started looking for her. And the accident happened nearby, and I heard it, but I didn't know she was involved in it."
It would be hours before Gomez learned his wife was dead. He's now raising their young daughter alone.
The Texas Department of Public Safety says the trucking company involved, Houston-based R&F Quality Transportation, shouldn't have been on the road at all. It had racked up a string of tickets and safety violations, ranging from a cracked frame to a driver smoking marijuana behind the wheel. DPS ordered the company to cease operations last December, an order R&F ignored.
"They were a great example of about as bad as it can get for a motor carrier to be disregarding public safety in the name of profits and revenue," says Pete Sullivan, a trucking expert with Houston-based Advanced Analysis Associates. Sullivan is currently advising the Marenco-Gomez family in a wrongful death suit.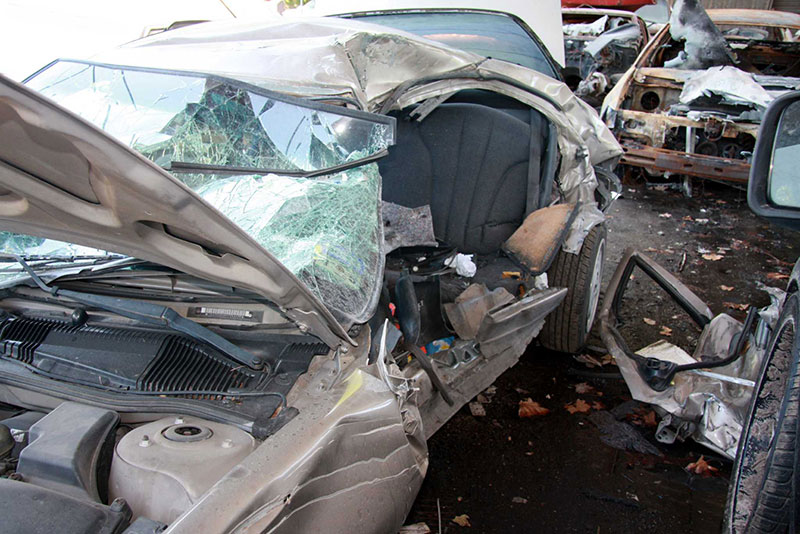 Vilma Marenco was driving home after her lunch shift at Pappasitos, when an oilfield hauling truck loaded with heavy pipe ran a red light and crushed the driver's side of the Chevy Cavalier Vilma Marenco was driving. The driver had no insurance. Image credit: Mayra Beltran, Staff Photographer, The Houston Chronicle
News 88.7 and the Houston Chronicle attempted to reach R&F for comment. None of the company's phone numbers are accepting calls.
The boom in fracking operations across Texas has triggered a huge demand for tractor-trailers to haul oil, mud, water, and pipes. In the rush to put more trucks and drivers on the road, some companies are skirting the rules.
"We're seeing a lot of equipment violations," says Sergeant Jason Reyes, a spokesman for DPS. "Brakes being out of adjustment, tires not having enough tread. We're also seeing some overweight violations — those are the most common infractions that we're seeing."
DPS runs a special "road check" inspection program to catch such violations. Roughly 30 percent of Texas vehicles pulled over for such inspections flunk and are pulled out of service. The national average of trucks sidelined for safety violations is 20 percent.
Larry Busby is sheriff of Live Oak County, in the heart of the Eagle Ford Shale. He's been in office for 33 years, and he says the truck traffic in his jurisdiction now is the most dangerous he's ever seen.
"There was a high demand for truck drivers," Busby says. "People who've never been in the seat of a truck before go to school for two weeks, and they graduate, and now they're a truck driver, you know. Well, they're not a truck driver yet. They've just passed the school."
The National Institute for Occupational Safety and Health, a division of the CDC, says the motor vehicle fatality rate for oil and gas extraction is now 8.5 times higher than for private industry as a whole. That includes more than trucking accidents. It also includes ordinary oilfield workers, just trying to get home after a long and dangerous day on the job.
Houston Chronicle reporter Lise Olsen contributed to this report.