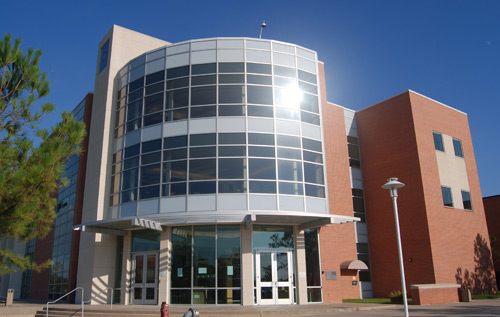 Lee College Main Campus in Baytown
Image credit: Lee College
While National Hispanic Heritage month is a relatively new designation, it has become a point of pride within the Latino community.
The Department of Education has designated Lee College in Baytown an official Hispanic-serving institution, because 25 percent of the student body is Hispanic. Lee College began celebrating on Monday with film screenings, student presentations and lectures.
One presenter Sarah Cortez, is an award-winning author and former Houston police officer.
Victoria Marron is an administrator at Lee College. She says Cortez's career will be an inspiration to attendees.
"She has her law enforcement background as well as a poet, publisher, tons of experience, and the idea for me to want to bring her was because she's a female, she's Hispanic, and she's made it through what's a non-traditional role as far as a career for a female," said Marron.
Sarah Cortez says she was inspired by other role models.
"My program at the University of Houston that launched part of my writing career, the Center for Mexican-American Studies, that program wouldn't exist without funding from many, many people," said Cortez. "So it's wonderful to celebrate Hispanic Heritage, by being inclusive to the people of so many cultural and racial groups that make up America."
Cortez says she was happy to be part of an event where Hispanics are looking to become better and smarter, and a contributor for others to be inspired. To help Latinos, Lee College is part of federal HSl-STEM grant program.
"Nationally, for all HSIs or institutions that are declared as HISs, they like to be able to celebrate different activities throughout the week," Marron explains. "For me, three years ago it was a matter of by working for an HSI grant, which basically means we're a grant, a $4.2 million dollar STEM grant for Science Technology Engineering and Math. And one of the overall objectives of the grant is to be able to get our Hispanic and other underserved students to go into STEM fields."
Marron oversees the grant program and also coordinates the Puente or "bridge" Mentoring program.
"And our Puente Mentoring Program, one of the key pieces we're trying to implement in our first year experience of our first year students is writing, and becoming strong writers. Because no matter what career you're going to go into, whether its STEM-related or not, you need a strong foundation of writing skills," said Marron.
Activities celebrating Hispanic Heritage continue through Thursday at Lee College.